The Elite (The Selection #2) by Kiera Cass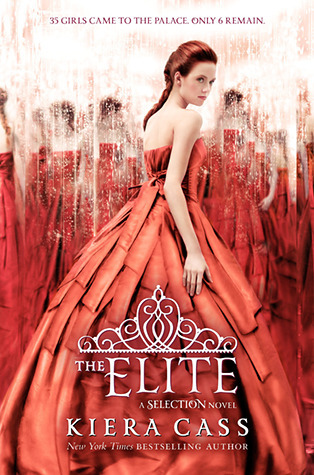 Goodreads Summary: The Selection began with thirty-five girls.
Now with the group narrowed down to the six Elite, the competition to win Prince Maxon's heart is fiercer than ever—and America is still struggling to decide where her heart truly lies. Is it with Maxon, who could make her life a fairy tale? Or with her first love, Aspen?
America is desperate for more time. But the rest of the Elite know exactly what they want—and America's chance to choose is about to slip away.  
My Review: I cannot believe that I loved this book even more than the first one because I was in love with the first, but I was obsessed with this book. It started right where it left off with six girls left and I still wasn't quite sure who I was supposed to love more, even though I knew I still loved Prince Maxon more.
Living through a relationship struggle and trying to become the next princess was so entertaining and I loved every second. I found myself squealing and giggling like an idiot again, this is one talented author. I am so in love with Maxon regardless of the countless number of times I got mad at him in this book. Jealously is also one of my least favorite feelings in books, especially when I am the one feeling it because I am living vicariously through the main character. I was jealous more times than I can recall and I did not like that at all but it did make for an interesting story because it wasn't just boy meets girl, they fall in love, the end. However, I love him. If it were real life I would want to marry him. I would sound insane to anyone who does not know exactly what I am feeling.
There was also one scene in particular that I can't describe without giving anything away that I could barely stand to read. It was so awful and horrid and barbaric, I can only hope that the last book has a happy ending for those involved. The maids were super adorable and I loved reading about them and their small drama and gossip. The King was insufferable and the Queen was a darling and their odd contrast was interesting to read about. This book also had some action with rebel attacks on the palace and had a few fight scenes which are always intriguing in my mind. I didn't think those would really fit in but they definitely kept me addicted to the story even more because I love fighting in books.
This book ended and I immediately bought the next one because I could not stop. I cannot wait to read it because I am obsessed and I really hope I have inspired someone to read these books because they are outstanding.
You can buy the Elite here.