Scarlet (Lunar Chronicles #2) by Marissa Meyer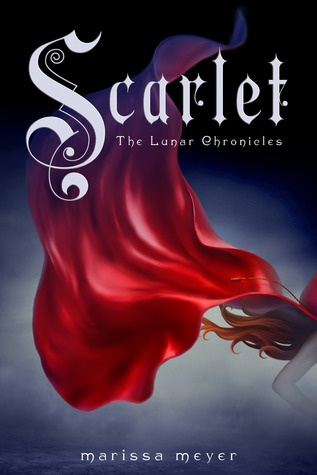 Goodreads Summary: Cinder, the cyborg mechanic, returns in the second thrilling installment of the bestselling Lunar Chronicles. She's trying to break out of prison—even though if she succeeds, she'll be the Commonwealth's most wanted fugitive.
Halfway around the world, Scarlet Benoit's grandmother is missing. It turns out there are many things Scarlet doesn't know about her grandmother or the grave danger she has lived in her whole life. When Scarlet encounters Wolf, a street fighter who may have information as to her grandmother's whereabouts, she is loath to trust this stranger, but is inexplicably drawn to him, and he to her. As Scarlet and Wolf unravel one mystery, they encounter another when they meet Cinder. Now, all of them must stay one step ahead of the vicious Lunar Queen Levana, who will do anything for the handsome Prince Kai to become her husband, her king, her prisoner.
My Review: I could not wait to get my hands on this book after rereading Cinder and after a very long wait, I finally got to read it! Sad to say, I was a bit disappointed with it.
I hate giving this book anything less than a stellar review but I wasn't very impressed. Cinder and Prince Kai's point of views were great and I flew through them! However, with Scarlet's story, I felt like I had to force myself through the pages until I could get to someone else's story. I got a little more into it as her plot developed, but not as much as in Cinder. With the first book, I felt myself instantly connected to the characters and the story line and that just didn't happen with this book.
I still love Prince Kai, definitely book boyfriend material, and although I didn't get nearly enough of him in this book, I think that he'll show up more in the future… Wolf though, the love interest of Scarlet, I just didn't find myself swooning over which was a major let down.
I like Scarlet and I like her more now that she is in the same story as Cinder and that the two stories melded. I didn't care for her grandmother much which sounds horrible, I know, but we were just thrown into the middle of her life and it was a little awkward, but I did like how her story was a spin off of little red riding hood which probably took me a little too long to figure out…more time than I care to admit.
I wish I had more fangirlish excitement, but it didn't live up to my expectations. It was still a good book but not nearly as good as the first. I am immediately delving into the next book in the series and hopefully that one will envelop every thought I have for the next couple of days.
I still recommend this series for fantasy lovers! You can buy scarlet here.