Cress (Lunar Chronicles #3) by Marissa Meyer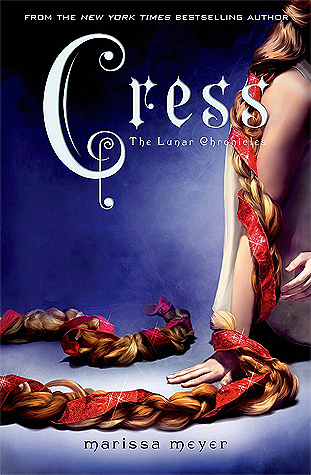 Goodreads Summary: Even in the future. there are damsels in distress…
In the third installment of the Lunar chronicles, Cress, having risked everything to warn Cinder of Queen Levana's evil plan, has a slight problem. She's been imprisoned on a satellite since childhood and has only ever had her netscreens as company. All that screen time has made Cress a great hacker. Unfortunately, she's just received orders from Levana to track down Cinder and her handsome accomplice.
When a daring rescue of Cress involving Cinder, Captain Thorne, Scarlet, and Wolf goes awry, the group is separated. Cress finally has her freedom, but it comes as a high price. Meanwhile, Levana will let nothing prevent her marriage to emperor Kai. Cress, Scarlet and Cinder may not have signed up to save the world, but they may be the only hope the world has.
My Review: Oh stars where to begin?
This book was AMAZING! It consumed my every thought and all I ever wanted to do was read the rest of the book and see what happened!
The new character Cress is amazing and I love her and reading in her point of view! The similarities to Cress and Rapunzel were fun and that entertained me when I first got introduced to her character. She quickly became my new favorite character in the series! Dr. Erland also makes a comeback and he is super entertaining as well. Everyone's separate stories were great but the book just got so addicting once everyone met up again! I mean, the amount of action and even some romance and plots to save the world were just…wow.
Cress and Thorne…well I'm totally rooting for them! Super cute couple. I didn't even think of Thorn as book boyfriend worthy until I read in her point of view. The whole story about them falling to Earth from her satellite and travelling through the desert together was my favorite part of the story. Scarlet and wolf were cute but when they get separated wolf turns in to a huge useless baby and it was kind of annoying to read… Kai and cinder though…My heart is still all for Kai! So much love for a fictional character!!
This book is entertaining, there's action there's romance, adventure, and so so much more. This was my favorite book of the entire series, I just loved it so much! I definitely recommend this book to scifi fantasy lovers! You can buy Cress here.