Cress (Lunar Chronicles #3) by Marissa Meyer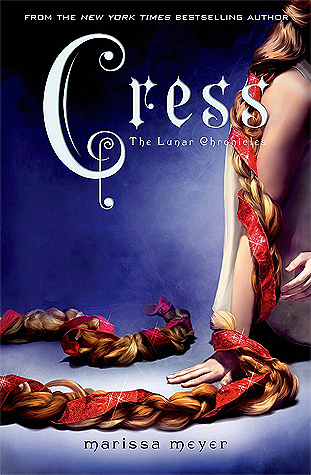 Goodreads Summary: Even in the future. there are damsels in distress…
In the third installment of the Lunar chronicles, Cress, having risked everything to warn Cinder of Queen Levana's evil plan, has a slight problem. She's been imprisoned on a satellite since childhood and has only ever had her netscreens as company. All that screen time has made Cress a great hacker. Unfortunately, she's just received orders from Levana to track down Cinder and her handsome accomplice.
When a daring rescue of Cress involving Cinder, Captain Thorne, Scarlet, and Wolf goes awry, the group is separated. Cress finally has her freedom, but it comes as a high price. Meanwhile, Levana will let nothing prevent her marriage to emperor Kai. Cress, Scarlet and Cinder may not have signed up to save the world, but they may be the only hope the world has.
My Review: Oh stars where to begin?
This book was AMAZING! It consumed my every thought and all I ever wanted to do was read the rest of the book and see what happened!
The new character Cress is amazing and I love her and reading in her point of view! The similarities to Cress and Rapunzel were fun and that entertained me when I first got introduced to her character. She quickly became my new favorite character in the series! Dr. Erland also makes a comeback and he is super entertaining as well. Everyone's separate stories were great but the book just got so addicting once everyone met up again! I mean, the amount of action and even some romance and plots to save the world were just…wow.
Cress and Thorne…well I'm totally rooting for them! Super cute couple. I didn't even think of Thorn as book boyfriend worthy until I read in her point of view. The whole story about them falling to Earth from her satellite and travelling through the desert together was my favorite part of the story. Scarlet and wolf were cute but when they get separated wolf turns in to a huge useless baby and it was kind of annoying to read… Kai and cinder though…My heart is still all for Kai! So much love for a fictional character!!
This book is entertaining, there's action there's romance, adventure, and so so much more. This was my favorite book of the entire series, I just loved it so much! I definitely recommend this book to scifi fantasy lovers! You can buy Cress here.
Scarlet (Lunar Chronicles #2) by Marissa Meyer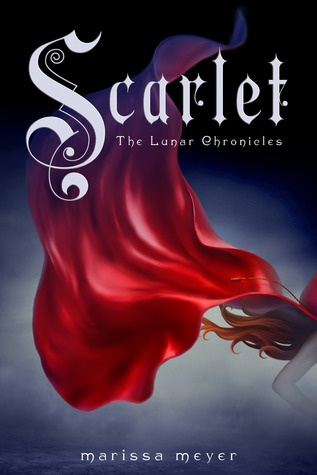 Goodreads Summary: Cinder, the cyborg mechanic, returns in the second thrilling installment of the bestselling Lunar Chronicles. She's trying to break out of prison—even though if she succeeds, she'll be the Commonwealth's most wanted fugitive.
Halfway around the world, Scarlet Benoit's grandmother is missing. It turns out there are many things Scarlet doesn't know about her grandmother or the grave danger she has lived in her whole life. When Scarlet encounters Wolf, a street fighter who may have information as to her grandmother's whereabouts, she is loath to trust this stranger, but is inexplicably drawn to him, and he to her. As Scarlet and Wolf unravel one mystery, they encounter another when they meet Cinder. Now, all of them must stay one step ahead of the vicious Lunar Queen Levana, who will do anything for the handsome Prince Kai to become her husband, her king, her prisoner.
My Review: I could not wait to get my hands on this book after rereading Cinder and after a very long wait, I finally got to read it! Sad to say, I was a bit disappointed with it.
I hate giving this book anything less than a stellar review but I wasn't very impressed. Cinder and Prince Kai's point of views were great and I flew through them! However, with Scarlet's story, I felt like I had to force myself through the pages until I could get to someone else's story. I got a little more into it as her plot developed, but not as much as in Cinder. With the first book, I felt myself instantly connected to the characters and the story line and that just didn't happen with this book.
I still love Prince Kai, definitely book boyfriend material, and although I didn't get nearly enough of him in this book, I think that he'll show up more in the future… Wolf though, the love interest of Scarlet, I just didn't find myself swooning over which was a major let down.
I like Scarlet and I like her more now that she is in the same story as Cinder and that the two stories melded. I didn't care for her grandmother much which sounds horrible, I know, but we were just thrown into the middle of her life and it was a little awkward, but I did like how her story was a spin off of little red riding hood which probably took me a little too long to figure out…more time than I care to admit.
I wish I had more fangirlish excitement, but it didn't live up to my expectations. It was still a good book but not nearly as good as the first. I am immediately delving into the next book in the series and hopefully that one will envelop every thought I have for the next couple of days.
I still recommend this series for fantasy lovers! You can buy scarlet here.
Clockwork Princess (Infernal Devices #3) by Cassandra Clare
Goodreads Summary: THE INFERNAL DEVICES WILL NEVER STOP COMING
A net of shadows begins to tighten around the Shadowhunters of the London Institute. Mortmain plans to use his Infernal Devices, an army of pitiless automatons, to destroy the Shadowhunters. He needs only one last item to complete his plan: he needs Tessa Gray.
Charlotte Branwell, head of the London Institute, is desperate to find Mortmain before he strikes. But when Mortmain abducts Tessa, the boys who lay equal claim to her heart, Jem and Will, will do anything to save her. For though Tessa and Jem are now engaged, Will is as much in love with her as ever.
As those who love Tessa rally to rescue her from Mortmain's clutches, Tessa realizes that the only person who can save her is herself. But can a single girl, even one who can command the power of angels, face down an entire army?
Danger and betrayal, secrets and enchantment, and the tangled threads of love and loss intertwine as the Shadowhunters are pushed to the very brink of destruction in the breathtaking conclusion to the Infernal Devices trilogy.
My Review: I am greatly disappointed in this book because I had hoped that this would be the best book in the series and that I would not want to put it down until I read the final page but alas, that did not happen. In fact, I felt it quite a struggle to push myself through those last 100 pages.
The book was pretty good up until the end. The plot was fast paced for the first half and there was this army being created and everything was being done to try to stop it and there were multiple subplots that I won't even bother talking about except to say that I did enjoy reading them and I'm glad Clare spent so much time developing them. The minor characters were really interesting  and I don't usually find myself caring about them so I'm glad that carried throughout the series. More romance was involved in this book with the minor characters and I liked reading about it.
I decided I love Will. I also love Jem but I choose Will. Will is my attractive badass with a hidden vulnerability and that is my type of book crush. That is all I have to say about them because I will share spoilers otherwise.
Tessa is a good main character and I was really interested in finding out what she was and I would definitely read more about her even though the series is over. She was a girl who learned to be a strong fighter and who would sacrifice herself for those she loved but she wasn't a stupid martyr like some book characters.
There was a battle scene but there was an entire series leading up to this one huge event and I feel like it ended far too quickly, it was almost anticlimactic how everything ended. It was very disappointing. It would have been less upsetting if the book then ended because the story was essentially over, but she continued on for another 100 pages of endless useless epilogue type story with no plot and it bored me. I forced myself to get through it because I wanted to see how the story ended for the characters but it was completely unnecessary and kind of annoyed me that this epic series ended with me wishing it could be over. I am not sure whether or not I am happy with the ending, I'm content I guess.
I was hoping for a better review of the conclusion to a good series, but there you have it. I would definitely still recommend it, though you could probably skim the end.
You can buy Clockwork Princess here.
Clockwork Prince (Infernal Devices #2) by Cassandra Clare
Goodreads Summary: In the magical underworld of Victorian London, Tessa Gray has at last found safety with the Shadowhunters. But that safety proves fleeting when rogue forces in the Clave plot to see her protector, Charlotte, replaced as head of the Institute. If Charlotte loses her position, Tessa will be out on the street—and easy prey for the mysterious Magister, who wants to use Tessa's powers for his own dark ends.
With the help of the handsome, self-destructive Will and the fiercely devoted Jem, Tessa discovers that the Magister's war on the Shadowhunters is deeply personal. He blames them for a long-ago tragedy that shattered his life. To unravel the secrets of the past, the trio journeys from mist-shrouded Yorkshire to a manor house that holds untold horrors, from the slums of London to an enchanted ballroom where Tessa discovers that the truth of her parentage is more sinister than she had imagined. When they encounter a clockwork demon bearing a warning for Will, they realize that the Magister himself knows their every move—and that one of their own has betrayed them.
Tessa finds her heart drawn more and more to Jem, but her longing for Will, despite his dark moods, continues to unsettle her. But something is changing in Will—the wall he has built around himself is crumbling. Could finding the Magister free Will from his secrets and give Tessa the answers about who she is and what she was born to do?
As their dangerous search for the Magister and the truth leads the friends into peril, Tessa learns that when love and lies are mixed, they can corrupt even the purest heart.
My Review: I have been put through an emotional rollercoaster with this book and it is extremely frustrating but I still love it. I know after the last book I said I liked Jem more but I don't even know what to think at this point. I love them both but I switched over to Will in this book after spending time in his head. Let's just say that I am not happy with the current situation concerning Tessa's love life…
Moving on to the plot, I guess. So basically there is one really bad guy trying to destroy all Shadowhunters and we know who it is but we don't REALLY know who it is. Makes sense, right? No, it doesn't and I am confused as well even though I have read the first two books. Hopefully the next book will clear up some things. Regardless, I still love this book and I was completely addicted, I could not stop reading it and when I had to stop reading it, I was thinking about it. Truly an amazing series and I am a lot happier with it than I was with the mortal instruments so far.
The fighting scenes are pretty epic as well and you know me, I'm a sucker for a good battle scene. There were just enough of them to keep the book exciting but not too many to the point where it took over the story. I also really liked how the point of view changed every chapter or so. It can be annoying in some books but there are so many characters that I care about in his series, I enjoyed it and it helped me understand most of what was going on.
I still think the choice of time period was interesting and it still plays a small part in the story. I liked it and how it affected the characters, mostly Tessa and Sophie (the human/mundane). The way they act is just not how modern girls act and I kind of like it though I would probably hate myself if I acted like that now…as would everyone else in the world.
Honestly, I am really enjoying this series and I am starting the third and final book as soon as possible because the book is sitting in my room waiting for me. I would like to recommend this series but I want to wait until I finish it to be certain in case things go awry like in the mortal instruments. That's all for now folks.
You can buy Clockwork Prince here.
Clockwork Angel (Infernal Devices #1) by Cassandra Clare
Goodreads Summary: In a time when Shadowhunters are barely winning the fight against the forces of darkness, one battle will change the course of history forever. Welcome to the Infernal Devices trilogy, a stunning and dangerous prequel to the New York Times bestselling Mortal Instruments series.
The year is 1878. Tessa Gray descends into London's dark supernatural underworld in search of her missing brother. She soon discovers that her only allies are the demon-slaying Shadowhunters—including Will and Jem, the mysterious boys she is attracted to. Soon they find themselves up against the Pandemonium Club, a secret organization of vampires, demons, warlocks, and humans. Equipped with a magical army of unstoppable clockwork creatures, the Club is out to rule the British Empire, and only Tessa and her allies can stop them…
My Review: I wasn't sure what to expect with this book because I have read a few bad spinoffs but this book exceeded my expectations by a gazillion percent. From the first chapter I was glued to the pages and Clare kept me addicted to the story with a fast paced plot, characters I actually cared about, and totally crush-worthy guys.
Put into the world of the Mortal Instruments, I cannot yet say which I liked better but there was definitely less awkwardness in this book, and for those of you who have read her other series you know what I am talking about. None of that…
I really liked Tessa and her views on women would have annoyed me if I didn't keep in mind that this is London in 1878. I wasn't sure how that was going to play out but  Clare did a good job, it didn't take away from the story or action at all. The Shadowhunters were ahead of their time I would say.
Will and Jem were both attractive badasses which is definitely my favourite kind of book boy, and I have to say that I prefer Jem at the moment even though I don't think Tess has a set opinion. I can't say why I like him more, I just have that feeling. Not as intense as Daemon Black from Lux but still there. There was a touch of romance and it was just enough to keep me craving more, I'm pretty excited for what's to come.
The plot was epic and any action or violent scene is good in my book when it contains magic like this book does. There was never a dull moment in her world and I loved it. I also like how so many creatures take part in this book and how it wasn't solely about the Shadowhunters like I thought it was going to be.
I was pleasantly surprised with this book, I haven't been addicted to a book in a while and let me tell you, I missed that feeling. So final thoughts, read it. If you're hesitant as I was, just go for it. Especially if you liked the Mortal Instruments and maybe even if you didn't. More to come when I finish book two probably shortly.
You can buy Clockwork Angel here.
Frostfire (Kanin Chronicles #1) by Amanda Hocking
Goodreads Summary: Bryn Aven is an outcast among the Kanin, the most powerful of the troll tribes.
Set apart by her heritage and her past, Bryn is a tracker who's determined to become a respected part of her world. She has just one goal: become a member of the elite King's Guard to protect the royal family. She's not going to let anything stand in her way, not even a forbidden romance with her boss Ridley Dresden.
But all her plans for the future are put on hold when Konstantin– a fallen hero she once loved – begins kidnapping changelings. Bryn is sent in to help stop him, but will she lose her heart in the process?
My Review: I have been looking forward to reading this for over a year now because Amanda Hocking is one of my favourite authors and the Trylle trilogy (this is a spinoff of that world) is one of my all-time favourites. I only waited this long because I wanted to be able to read the whole trilogy within the month and the last one comes out in August.
After all of the anticipation, I finally got the book from my library and I was sadly disappointed. The book was slow and I had to force myself to get through the whole thing and I was really let down at that. I love every book I have ever read by Amanda Hocking and this was the first that I had to make myself finish. The plot was good but moved way too slow, the characters were interesting but I didn't love them until towards the end, but the romance was pretty great. I love having book crushes and that is something Amanda Hocking rocks at.
The villain is confusing because I don't know whether I hate him or love him and that is frustratingly addicting. The book was good overall but I felt like a huge piece in the middle was unnecessary, but who knows? It may be important in the next book.
The end of the book definitely picked up, the plot developed, the characters felt like my friends, and the ending was a cliffhanger that left me wanting more so I am definitely anticipating a better book two and I cannot wait to read it.
You can buy Frostfire here.
Shadows in the Silence (Angelfire #3) by Courtney Allison Moulton
Goodreads Summary: Your strength in heart and hand will fall. . . .
Ellie knows that the darkest moments are still to come, and she has everything to fight for:
She must fight for Will.
The demonic have resorted to their cruelest weapons to put Will in mortal danger, and Ellie makes an unlikely alliance to save him and to stop Lilith and Sammael, who seek to drown the world in blood and tear a hole into Heaven.
She must fight for humanity.
As the armies of Hell rise and gather for the looming End of Days, Ellie and her band of allies travel to the world's darkest and most ancient regions in her quest to come into her full glory as the archangel Gabriel.
And Ellie must save herself.
Her humanity withers beneath the weight of her cold archangel power, but Ellie must hold tight to who she is and who she loves as she prepares for the ultimate battle for Heaven and Earth.
In this final installment in the Angelfire trilogy, Courtney Allison Moulton brings her dark world of epic battles and blistering romance to a blazing bright conclusion.
My Review: I finally got around to reading this conclusion and I was kind of let down. I was expecting a huge dramatic and amazingly fast-paced book but it was kind of slow for most of the book and there was a lot of buildup which led to such a fast ending. I mean, it was definitely still good and I enjoyed it, I just wasn't addicted to it like I am with other books and felt like I had to force myself to finish it. Honestly, I didn't really care what happened as horrible as that is!
I did love Will but I was bored with the situation so I didn't crush on him as hard as I normally crush on the book boyfriends which was a bit disappointing because I enjoy having book boyfriends.
The part about Ellie and Gabriel was pretty epic and Moulton did a better job than I expected her to do. The battle wasn't as exciting as I wanted but I still was pretty happy with the way everything turned out and it was a good book overall, just not as good as the other books in the trilogy. Usually for me books get better as they go on in a trilogy and I get more and more addicted but that didn't happen for me this time.
This was definitely not in my top series but I would still recommend it to anyone who likes fantasy books.
You can buy the conclusion to Angelfire here.
Wings of the Wicked (Angelfire #2) by Courtney Allison Moulton
Goodreads Summary:
Life as the Preliator is harder than Ellie ever imagined.
Balancing real life with the responsibility of being Heaven's warrior is a challenge for Ellie. Her relationship with Will has become all business, though they both long for each other. And now that the secret of who she really is has come out, so have Hell's strongest reapers. Grown bold and more vicious, the demonic threaten her in the light of day and stalk her in the night.
She's been warned.
Cadan, a demonic reaper, comes to her with information about Bastian's new plan to destroy Ellie's soul and use an ancient relic to wake all the souls of the damned and unleash them upon humanity. As she fights to stay ahead of Bastian's schemes , the revelations about those closest to her awaken a dark power within Ellie that threatens to destroy everything—including herself.
She'll be betrayed.
Treachery comes even from those whom she loves, and Ellie is broken by the deaths of those who stood beside her in this Heavenly war. Still, she must find a way to save the world, herself, and her love for Will. If she fails, there will be hell to pay.
My Review: This book was even better than the first book which often happens with series I think.
Will is my newest book crush but I have to say, I think I like Cadan even more. Something about demonic and dangerous boys gets me. Both of them are equally crush worthy though so either way, I'm one happy fangirl.
I didn't like the main character and how often she cried and how many times she needed Will to save her. I wanted her to toughen up and take responsibility for everything and kick some demon booty. With the way that this book ended though, I have a feeling she is totally going to turn into a badass which will be fantastic. As far as main characters go though, she was okay.
I absolutely love Marcus and i'm not sure why. He just has such a calming character in the book and he feels like an older brother or something. I also really like Nathanial and I am not happy with his situation, that's all I can say on that topic.
The book had an interesting and fast paced plot but it got to the point where I wasn't sure how the author was going to continue for a whole other book but then the ending happened. It was seriously insane and I didn't think she would go that far but she did it and I am freaking out writing this review because I just HAVE to read the next one. Review coming soon because I am addicted.
I would definitely recommend this series to all of you. It's fantastic. You can buy it here.
Angelfire (Angelfire #1) by Courtney Allison Moulton
Goodreads Summary:
First there are nightmares.
Every night Ellie is haunted by terrifying dreams of monstrous creatures that are hunting her, killing her.
Then come the memories.
When Ellie meets Will, she feels on the verge of remembering something just beyond her grasp. His attention is intense and romantic, and Ellie feels like her soul has known him for centuries. On her seventeenth birthday, on a dark street at midnight, Will awakens Ellie's power, and she knows that she can fight the creatures that stalk her in the grim darkness. Only Will holds the key to Ellie's memories, whole lifetimes of them, and when she looks at him, she can no longer pretend anything was just a dream.
Now she must hunt.
Ellie has power that no one can match, and her role is to hunt and kill the reapers that prey on human souls. But in order to survive the dangerous and ancient battle of the angels and the Fallen, she must also hunt for the secrets of her past lives and truths that may be too frightening to remember.
My Review: This book had a really interesting concept and really lived up to the great summary it had. I haven't read many books about angels so I was pretty excited to try this series.
The plot took a bit to develop but it was immediately entrancing and I fell in love with the story. Ellie was a great main character and even though the story was extremely similar to the old Disney movie Wendy Wu, I was addicted to finding out what happened to her. The plot continued getting better and better and left off the book with an ending that made me wanting more.
Will was also a totally swoon-worthy attractive protective badass guardian and I love him. That is all I have to say about him.
I had to put the next book on hold and will be reading Cinder in the meantime so stay tuned. I miss Will already…
This book was definitely worth the read and I recommend it. You can buy Angelfire here.
Night Roamers Series by Kristen Middleton
Goodreads Summary of Book 1: There ARE creatures lurking in the dead of night… Seventeen year old Nikki and her twin brother, Nathan, move to the small town of Shore Lake to start over after their mother is brutally attacked. When a missing teenager washes up on shore during their first night at the cabin and there are whispers of vampires in Shore Lake, Nikki begins to realize that there are things roaming in the darkness that are far more sinister than what they left behind in the big city.
My Review: This series was extremely addictive and I fell in love immediately. I have to review the whole series in one post because I read all 4 books in 2 days and I didn't stop to blog…it was a struggle. Binge reading series like this one is my weakness as a blogger.
Anyway, I wasn't sure about reading another series about vampires because they can be so cliché, but I was pleasantly surprised with how the story played out. There was a super frustrating love triangle involved and I have to say I love both of them and I was happy/depressed with how it turned out. The vampire part of the story was actually not too bad, it was kind of dumb sometimes like how people got turned into vampires, but it was dumb in a good way.
The characters were really likeable and I felt like I was a part of their story which was why the series was so addicting. Each book picked up where the last left off so it was really easy to finish one and immediately start the next. The plot line was also really good and developed and I enjoyed following the plot through the books.
These were super fast paced amazing books and I would recommend these to anyone who likes paranormal books. You can get the first one here free for a limited time.
18 Things by Jamie Ayres (My So Called Afterlife #1)
Goodreads Summary: Olga Gay Worontzoff thinks her biggest problems are an awful name and not attending prom with Conner, her best friend and secret crush since kindergarten.
Then, Conner is killed in a freak boating accident and Olga feels responsible for his death.
When she downs an entire bottle of pills to deal with the emotional pain, her parents force her into counseling. There, her therapist writes a prescription in the form of a life list titled "18 Things": eighteen quests to complete the year of her eighteenth birthday.
But there's more to Olga's quests than meets the eye and when her therapist reveals a terrifying secret, her world is shaken.
There's only one thing she knows for certain: her choices won't just affect her future, but all eternity.
My Review: This book was actually better than I expected. It started off immediately captivating with such an intense scene. I knew then that I was going to like this book and the main character.
The book was mostly about a girl dealing with the death of her best friend and perhaps a new romance. There were 18 things she put on her bucket list and it was a really fun concept and story. It kept me entertained for a while and I enjoyed reading it but the name of the series made me wait for something big to happen about the afterlife but nothing ever really happened until the last few pages which was upsetting.
I really liked the characters in this story and I felt like they were my friends and so the ending really aggravated me. I also fell in love with a boy whose name I won't mention. The ending had a twist but it was exactly what I thought it was going to be and I was not a fan of what the author did with it. This book would have made a wonderful standalone but the ending made me not want to read the next book so I probably won't ever get to it.
This book was good but the ending kind of ruined it for me. You can get it on Amazon here.
Sentinel (Covenant #5) by Jennifer L. Armentrout
Goodreads Summary: As the mortal world slowly slips into chaos of the godly kind, Alexandria Andros must overcome a stunning defeat that has left her shaken and in doubt of their ability to end this war once and for all.
And with all the obstacles between Alex and her happily-ever-after with the swoonworthy Aiden St. Delphi, they must now trust a deadly foe as they travel deep into the Underworld to release one of the most dangerous gods of all time.
In the stunning, action-packed climax to the bestselling Covenant series, Alex must face a terrible choice: the destruction of everything and everyone she holds dear… or the end of herself.
My Review: My Gods, what an epic finale that was! So much happened that the entire series had been leading up to. It was action-packed, romantic, and was overall a ridiculously fast read. The mythology aspect was huge in this book and I loved every second of it, being the Greek mythology lover that I am. JLA has yet to write a book that I don't like and this series did not disappoint.
The plot line in this book was insane and everything happened so fast I didn't realize I was reading and that makes for the greatest kind of book. The characters were so well developed that I felt what they felt like they were real people which is borderline crazy but I can't help it! I am still in love with Seth and find myself thinking about him, even after I finished the book. I do love Aiden too which also complicated the whole romantic situation.
The giant war between the Gods, students, sentinels, and even a Titan was written extremely well. JLA excels at fight scenes, and the fact that it was mythology based made it that much better.
I can't say too much more without spoiling everything but I will say I am not completely thrilled with the ending but I would reread the entire series because I still love it. You'll just have to read it for yourself to find out. I definitely recommend this series to anyone who likes mythology or anything else JLA has written because she is amazing. I will for sure be reading JLA's new series about Seth in the near future so stay tuned!
You can buy Sentinel here.
Apollyon (Covenant #4) by Jennifer Armentrout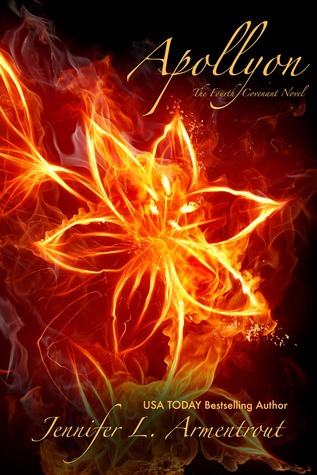 Goodreads Summary: Fate isn't something to mess with… and now, neither is Alex.
Alex has always feared two things: losing herself in the Awakening and being placed on the Elixir. But love has always been stronger than Fate, and Aiden St. Delphi is willing to make war on the gods—and Alex herself—to bring her back.
The gods have killed thousands and could destroy entire cities in their quest to stop Seth from taking Alex's power and becoming the all-powerful God Killer. But breaking Alex's connection to Seth isn't the only problem. There are a few pesky little loopholes in the whole "an Apollyon can't be killed" theory, and the only person who might know how to stop the destruction has been dead for centuries.
Finding their way past the barriers that guard the Underworld, searching for one soul among countless millions, and then somehow returning will be hard enough. Alex might be able to keep Seth from becoming the God Killer… or she might become the God Killer herself.
My Review: This book was even more amazing than the past books in the series which is saying something…I am really glad I read Elixir (the novella) before I read this one because so much happened in that book and it made me love Aiden even more so I read this book differently.
JLA always perfectly times each part of her plot to where you almost get beyond frustrated with how things are going but then she picks things up and makes the plot even crazier. The beginning of this book was really frustrating because of the whole connection between the Apollyons and I was so glad when JLA added something more to the plot, like a war between the Gods. Yeah, and things only got crazier from then on. An unknown God was working against Apollo and Alex, and Alex has to go on several adventures trying to figure out how to stop them. It was fantastic and addicting. The mythology mixed with all of the crazy action was also perfect and helped intensify the plot.
I also loved all of JLA's phrases like "crap on a cracker" which is just so her. There were also so many references that I loved like a Charmed reference (the old TV show and one of my favorites), a Harry Potter reference which she tends to use in her books, and so many Supernatural references that make me want to watch that show. Now I must. Her references and phrases amuse me to no end.
The romance, oh the romance, was so intense in this book it brought out my inner fangirl times 10. I don't know why part of me still loves Seth but I do and so I really hope he doesn't die…I am now officially in love with Aiden and the novella Elixir really helped bring me to that point. This book only made my love grow because of his sexy I-can-defeat-anything-wariorness and because of how deep his love for Alex goes. I love this relationship and I am living through it like the book slut I am.
The ending of this book was insane and there wasn't a huge cliffhanger, just a bunch of things that were left open-ended so I must read the next book as soon as humanly possible before I go crazy. You can buy Apollyon here.
Elixir (Covenant #3.5) by Jennifer Armentrout
Goodreads Summary: Aiden St. Delphi will do anything to save Alex.
Even if it means doing the one thing he will never forgive himself for.
Even if it means making war against the gods.
My Review: This novella was surprisingly really fast-paced. So much happened in the 75 pages that it didn't feel like it was short. I was nervous to read it at first because it is from Aiden's POV since the ending of book three kind of took sane Alex out of the picture and I wasn't sure how good a book in Aiden's head would be. I should know better then to ever doubt JLA.
The plot picked up where the last book left off so I definitely would have missed this whole chunk of story if I hadn't read it. Compared to the other books there was less plot and action, of course, but it was just as good as the others. I loved seeing the world and Alex and the Gods from Aiden's POV and having this whole plot that the main character had no say in was really interesting.
I love Aiden so much more after being in his head and experiencing his true love for Alex. The other books made me guess and I was never sure but I know now. My favorite quote,  "I would burn down the world if that meant Alex would be safe" sounds very similar to something Daemon Black once said, so yes I did fangirl over that like a crazy person.
This novella was definitely worth the read. I would recommend this series for sure because it is amazing, and I recommend reading this novella if you do read the series. Which you should. You can buy Elixir here.
Deity (Covenant #3) by Jennfier L. Armentrout
Goodreads Summary: Alexandria isn't sure she's going to make it to her eighteenth birthday–to her Awakening. A long-forgotten, fanatical order is out to kill her, and if the Council ever discovers what she did in the Catskills, she's a goner… and so is Aiden.
If that's not freaky enough, whenever Alex and Seth spend time "training"–which really is just Seth's code word for some up-close and personal one-on-one time–she ends up with another mark of the Apollyon, which brings her one step closer to Awakening ahead of schedule. Awesome.
But as her birthday draws near, her entire world shatters with a startling revelation and she's caught between love and Fate. One will do anything to protect her. One has been lying to her since the beginning. Once the gods have revealed themselves, unleashing their wrath, lives will be irrevocably changed… and destroyed.
Those left standing will discover if love is truly greater than Fate…
My Review: I am fangirling so hard right now that it was hard to take time away from reading to write this review but there is just so much I have to say! This book was AMAZING like everything else JLA has written. The further I get in this series, the more I love it and the more the writing sounds like JLA to me, which is a great thing.
Minor spoilers past this point:
The plot was really entertaining and stressful with Alex being the second Apollyon and trying to prepare for that, the whole thing with a servant at the New York Covenant, and the inclusion of some Gods and even more drama between everyone. The inclusion of the Gods was one of my favorite parts about this story because I love mythology and I find the Gods so amusing, especially the ones JLA chose. There was also one scene in the middle which blew my mind and all I will say is that I almost cried when I got to talk to Caleb. It was beautiful and confusing at the same time! The preparing to be the Apollyon was kind of a total gray area because no one (except Seth) really knew what was going to happen and how to handle it.
Which brings me to Seth. I was totally team Seth through the last book and partly through this one but now I cannot decide. Is Seth really the monsterous God-killer everyone makes him out to be? Why do I still love him so much? I don't want to hate him but I am scared that may be what is coming. I just want to love him. Then there is Aiden, the badass sexy Sentinal who is risking everything to be with Alex. I developed an intense love for this man throughout the book and I cannot wait to see what is in store for this relationship.
Gods, I love JLA more than any other author (besides jk Rowling) and I recommend this book along with any other book of hers that I have read so far! I am completely obsessed with this series and almost forgot about school…I am going to finish this series soon because I cannot wait any longer! You can buy Deity here.
Pure (Covenant #2) by Jennifer Armentrout
Goodreads Summary: There is need. And then there is Fate. Being destined to become some kind of supernatural electrical outlet isn't exactly awesome–especially when Alexandria's other half is everywhere she goes. Seth's in her training room, outside her classes, and keeps showing up in her bedroom–so not cool. Their connection does have some benefits, like staving off her nightmares of the tragic showdown with her mother, but it has no effect on what Alex feels for the forbidden, pure-blooded Aiden. Or what he will do–and sacrifice–for her. When daimons infiltrate the Covenants and attack students, the gods send furies–lesser gods determined to eradicate any threat to the Covenants and to the gods, and that includes the Apollyon–and Alex. And if that and hordes of aether-sucking monsters didn't blow bad enough, a mysterious threat seems willing to do anything to neutralize Seth, even if that means forcing Alex into servitude–or killing her. When the gods are involved, some decisions can never, ever be undone.
My Review: OH MY GODS! JLA has done it again. I am once again in awe of her genius ideas and remarkable writing style that keeps me glued to the pages and makes me forget I have to wake up and go to class. I was that weird girl in the gym reading while exercising. Only JLA can keep me that addicted. This book was THAT good.
The ending of the last book wasn't exactly a cliffhanger but it was insane and this book only got crazier. There were more of my favorite training scenes and plenty of hot boys fighting over Alex which was totally sexy. Both Aiden and Seth are definitely swoon-worthy and each had some steamy romance with Alex which was okay by me! At this point, Alex still can't decide who she wants more but I already have my opinion and I am team Seth all the way! I have no idea why I like him more than Aiden. He's sexy, a total badass, super protective, has moments of vulnerability that make him more lovable, and he stays with Alex through everything to try to make her feel better. There is that stupid connection between them but I still love him. I guess I do kind of know why I love him.
Anyway, the plot line in this book was fantastic! The Apollyon training and powers awakening and the trials and Covenant, someone (multiple people actually) trying to take Alex out, both boys defending her, everything was just perfect. I really like how the mythology ties into this book too because I am a total Greek mythology lover. The furies and the oracle being the most important was interesting because those are some of the creepiest parts of mythology in my opinion which means that there is just more bad stuff coming. The battle scene in this book was also totally epic and bloody and heads got cut off and it was just awesome. I wasn't anticipating a fight, but JLA cannot go wrong. There were also two of my favorite phrases of hers in this book and I wanted to jump up and down and laugh because I was so excited to read "asshat" and "I would give my firstborn child for ___" but I'm sure my roommate would have thought I was a sociopath and saying that I love JLA would not have made anything better.
After the end, the chapter in Seth's POV was really amazing. Seeing into his head was really amusing because he is such a hilarious and annoying character. His feelings toward Alex and his reactions to what happened between them were adorable and I loved it. His sarcasm and narcissism remind me of Daemon Black which is the highest compliment ever but seeing as how it's the same author…
I would highly highly recommend reading this book and any other book that JLA has ever written because you will not be disappointed. This series is amazing and I cannot wait to read the next one. Read it. Now please. You can buy Pure here.
Half-blood (Covenant #1) by Jennifer L. Armentrout
Goodreads Summary: The Hematoi descend from the unions of gods and mortals, and the children of two Hematoi pure bloods have godlike powers. Children of Hematoi and mortals–well, not so much. Half-bloods only have two options: become trained Sentinels who hunt and kill daimons or become servants in the homes of the pures. Seventeen-year-old Alexandria would rather risk her life fighting than waste it scrubbing toilets, but she may end up slumming it anyway. There are several rules that students at the Covenant must follow. Alex has problems with them all, but especially rule #1:Relationships between pures and halfs are forbidden. Unfortunately, she's crushing hard on the totally hot pure-blood Aiden. But falling for Aiden isn't her biggest problem–staying alive long enough to graduate the Covenant and become a Sentinel is. If she fails in her duty, she faces a future worse than death or slavery: being turned into a daimon, and being hunted by Aiden. And that would kind of suck.
My Review: If you have ever read my blog then you know how much I love JLA! I am on track to reading every book she has ever written and she has not let me down yet. This book did not disappoint!
I was a bit surprised that I felt like I had read this exact book before and it took me a little while to realize that it was scarily similar to Vampire Academy for the first 60%. The plot line was almost the same with a few minor differences but same idea. Even though it was so similar to Vampire Academy, I loved it anyway because JLA just has a style of writing that I adore. After the book hit the point where it was different from anything I had read I was completely sucked in and I couldn't go to sleep until I finished it! Aiden is totally swoon-worthy, as is Seth and I know who Alex wants right now but I can't decide who I like more. Both are sexy badasses (JLAs favorite) and I may end up loving them both, and I am actually pretty okay with that.
The one thing that I missed in this book was the lack of JLA phrases, the ones she manages to use in every book she writes. This was the first book she wrote though, I think, so she hadn't really developed them yet. She also always writes a few chapters in the boy's POV and I always love them because the way she makes the boys think is hilarious and entertaining. In Aiden's chapters there were actually a few of her words and phrases that I love so much, my particular favorite being "asshat", and whenever I came across one I just got so excited.
I cannot wait to read the next book because she has me addicted to another one of her series! You can buy Half-Blood here.
Killer Frost (Mythos Academy #6) by Jennifer Estep
Goodreads Summary: I've battled the Reapers of Chaos before–and survived. But this time I have a Bad, Bad Feeling it's going to be a fight to the death … most likely mine.
Yeah, I've got my psychometry magic, my talking sword, Vic–and even the most dangerous Spartan on campus at my side, in Logan freaking Quinn, but I'm no match for Loki, the evil Norse god of chaos. I may be Nike's Champion, but at heart, I'm still just Gwen Frost, that weird Gypsy girl everyone at school loves to gossip about.
Then someone I love is put in more danger than ever before, and something inside me snaps. This time, Loki and his Reapers are going down for good … or I am.
My Review: This conclusion to a series full of magic, mythology, action, drama, and romance was bittersweet. I was all too eager to see what Estep had in store for the last book in the Mythos Academy series but at the same time I didn't want it to end.
I can definitely say this book was my absolute favorite and I know I have said that about every one but that's only because they just kept getting better. This book had the most action because everything with Loki, the ultimate evil in the world, came down to a huge war as anticipated. There wasn't really a subplot in this book which I enjoyed because everything was focused on the main issue at hand. I love battle scenes when they are done well and those in this finale did not disappoint! The final fight was epic and there was a twist that I didn't see coming. It went really well with the book and it made so many thins come together and it was a bit too Harry Potterish to be completely unique, but I still loved it!
The romance was never really developed in any of the books. I want to love Logan but I just didn't find myself connected to him or any of the other characters (besides the main character) as I have in other books. This really disappointed me because there was so much potential but there were too many romantic struggles and so much frustration for there to be good romance.
There isn't much else I cannot talk about without giving away major spoilers, but I really did love the ending! Everything came together and every subplot was concluded beautifully, as was the main plot and it did end romantically (I won't say between which couples) even though the book didn't have as much romance as I would have liked. This series was overall pretty amazing and I am really glad I stumbled across it on goodreads. It isn't one of my all-time favorites but I would recommend it to people who like action, mythology, and a touch of romance.
You can buy Killer Frost here.
Midnight Frost by Jennifer Estep (Mythos Academy #5)
Goodreads Summary: Here we go again …
Just when it seems life at Mythos Academy can't get any more dangerous, the Reapers of Chaos manage to prove me wrong. It was just a typical night at the Library of Antiquities — until a Reaper tried to poison me. The good news is I'm still alive and kicking. The bad news is the Reaper poisoned someone else instead.
As Nike's Champion, everyone expects me to lead the charge against the Reapers, even though I'm still hurting over what happened with Spartan warrior Logan Quinn. I've got to get my hands on the antidote fast — otherwise, an innocent person will die. But the only known cure is hidden in some creepy ruins — and the Reapers are sure to be waiting for me there …
My Review: There are so many things that happened in this book and I have no idea where to start for my jumbled brain to make logical sense.
My favorite part was the very end because after another book of romantic frustration and longing, Logan finally came back into the series and I officially love him. The romance between the minor characters was present but I didn't really care about it to be honest. Sure, it was adorable and I'm glad it was there, I just didn't feel what they were feeling so it wasn't a super important part of the story. I definitely developed more of a connection with the minor characters in this book though which I'm really excited about, and a new character was introduced and I never thought that Gwen would meet someone like her. I got really attached to her so I am hoping she joins the big fight in the finale.
There was a lot of fighting in this book and I really liked it. So many Reapers were killed and there is another Spartan on the good side and new weapons from mythology. The mythology was also really diverse in this book, more Norse in this book than the others and it was interesting.
The subplot for this book, well, I was not a huge fan of it. The entire time they went to find a healing flower which would have been okay if it didn't take up the whole book. It was entertaining but I feel like that didn't need to be the entire story. I also keep getting annoyed with how many times the bad people have gotten away the SAME WAY as in all of the past books! It isn't like they come up with different escapes, that would be okay, but they jumped onto a flying mythological creature and flew away every time. I am anticipating a huge battle between good and evil, so I really hope the author doesn't disappoint because so far I have enjoyed this series more than I thought I was going to.
You can buy Midnight Frost here.
Crimson Frost by Jennifer Estep (Mythos Academy #4)
Goodreads Summary: For a moment, a face flashed before my eyes—the most hideous face I'd ever seen. No matter how hard I tried to forget what had happened, I saw him everywhere I went. It was Loki—the evil god that I'd helped set free against my will.
I should have known that my first official date with Logan Quinn was destined to end in disaster. If we'd gotten into a swordfight, or been ambushed by Reapers, I'd have been more prepared. But getting arrested mid-sip at the local coffee hangout? I didn't see that one coming.
I've been accused of purposely helping the Reapers free Loki from his prison—and the person leading the charge against me is Linus Quinn, Logan's dad. The worst part is that pretty much everyone at Mythos Academy thinks I'm guilty. If I'm going to get out of this mess alive, I'll have to do it myself…
My review: This book was by far the best in the series so far. The plot was fast-paced and there was more fighting in this book than the past ones which made it really exciting for me. The main antagonist wasn't directly in this book and there was another huge subplot which involved a possession of sorts and I was blown away. I wasn't sure how the series was going to continue being so good with the same plot for the whole series but Jennifer Estep managed to create more problems for the main character Gwen and keep me captivated.
The minor characters are just that, minor. I have a small connection with a few of them like her close circle of warrior friends, but not nearly as much of a connection as I've had with minor characters in the past. I'm okay with this though because there is so much going on, I don't really pay attention to every detail. The mythology wasn't as important in this book either but I have a feeling that it will be more important in the war to come in the next two books.
The romance in this book started out wonderful, Logan has definitely turned into a swoon-worthy book boyfriend of mine, but by the end of the book it went south so fast. I am not very happy with how the book ended because there were so many small cliffhangers and so much is going to be happening. I was literally freaking out when it ended and that earned some strange looks from my family. I have to find out what happens though and I am going to be diving right into the next book before I go crazy.
I am excited that I decided to read this series and the books seriously get better every time which makes me even more addicted. I am going to be very upset when this series ends but it's worth it. You can buy Crimson Frost here.
Dark Frost by Jennifer Estep (Mythos Academy #3)
Goodreads Summary: I've seen so many freaky things since I started attending Mythos Academy last fall. I know I'm supposed to be a fearless warrior, but most of the time, I feel like I'm just waiting for the next Bad, Bad Thing to happen. Like someone trying to kill me–again.
Everyone at Mythos Academy knows me as Gwen Frost, the Gypsy girl who uses her psychometry magic to find lost objects–and who just may be dating Logan Quinn, the hottest guy in school. But I'm also the girl the Reapers of Chaos want dead in the worst way. The Reapers are the baddest of the bad, the people who murdered my mom. So why do they have it in for me? It turns out my mom hid a powerful artifact called the Helheim Dagger before she died. Now, the Reapers will do anything to get it back. They think I know where the dagger is hidden, but this is one thing I can't use my magic to find. All I do know is that the Reapers are coming for me–and I'm in for the fight of my life.
My Review: This book was by far the best in the series! I was so addicted to it, I felt like it was my real life and that, for me, is what makes an amazing story.
There was a bit of useless and annoying summarizing in the beginning but it quickly picked up where the last left off and completely engrossed me. The plot line was so much more intense in this book because it was all about finding the dagger, fighting Reapers in some epic and bloody battles, and stopping Loki from escaping. The plot movement was nonstop, there was more content to this story than the last book, and I really enjoyed it. The drama, magic, and mythology were also a huge part of this book and it made me wish that I lived in a world full of magic.
The romance in this book was also so much better than in books past. I was smiling so big at points and practically jumping up and down like the giant spazzy girl I am. I love Logan and I am mad that it took this long for that to happen but I pretty much got over that anger once the relationship developed. He's totally a badass and in book men, that is definitely my type, how could it not be?
The ending was crazy and so much happened and then the book ended with kind of a happy ending with a small reminder that the world is about to get turned into chaos. It was a fantastic ending and although it wasn't actually a big cliffhanger, it left me dying to read book 4!
I have read better mythology and magic books and this series isn't at the top of my list but I am still really enjoying it. I would still recommend it to magic and mythology lovers such as myself. You can buy Dark Frost here.
Kiss of Frost by Jennifer Estep (Mythos Academy #2)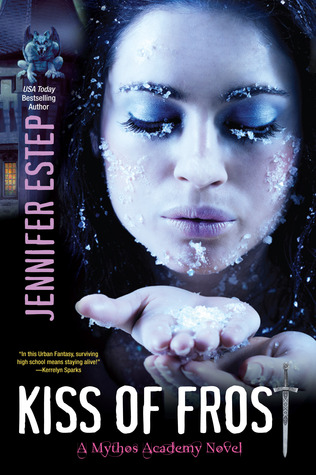 Goodreads Summary: I'm Gwen Frost, a second-year warrior-in-training at Mythos Acad­emy, and I have no idea how I'm going to sur­vive the rest of the semes­ter. One day, I'm get­ting schooled in sword­play by the guy who broke my heart—the drop-dead gor­geous Logan who slays me every time. Then, an invis­i­ble archer in the Library of Antiq­ui­ties decides to use me for tar­get prac­tice. And now, I find out that some­one at the acad­emy is really a Reaper bad guy who wants me dead. I'm afraid if I don't learn how to live by the sword—with Logan's help—I just might die by the sword…
My Review: I have conflicting feelings about this book.
The first 20% of the book was almost completely a summary of the last book which was really annoying to me. I prefer books that pick up where the last one left off with some small pieces of review thrown in but this was a full on reiteration of the last book. I honestly got bored with it but luckily, the first book was good enough that I wanted to find out what happens. After I pushed past the recap, the book was just as amazing as the first.
This book's plot was more interesting and intense and it went much quicker than the first one. I was addicted to this book and read it in just a few hours and forced myself to go to sleep and not immediately start the next one. I did figure out who was behind the attempted murders, well some of them, before the author actually revealed it but there was a twist I didn't see coming. Similar to the first book, the subplot was resolved but the main plot of Loki rising once again and threatening to take over the world with Chaos is getting crazier. Now that Gwen is a champion, she has been given a task from the goddess Nike herself and now the world is basically in her hands. With most mythology books I've read, the main hero/heroine has to save the world, so this wasn't a huge surprise to me.
For some reason, training scenes are always my favorite and I got really excited now that three Spartans are training Gwen. Oliver has really grown on me in this book and I liked the few scenes that Gwen and Logan shared together, even though he was a prime suspect for most of the book. I also really enjoyed what the author did with the new development with Gwen's magic and how she can use it to learn different skills, especially fighting. I'm interested to see where Jennifer Estep takes this. The mythology was also an important aspect of this book and I liked how it didn't focus on one type of mythology, I got really excited every time some new God or Goddess was mentioned and I hope the rest of the books in the series follow this same method.
The romance in this book was a bit more prevalent but it is mostly anticipation and frustration when nothing happens which is such a horrible feeling in books! Every time something almost happens, I get really excited but then either Logan or Gwen decides to leave and it bothers me so much! I cannot wait for something to happen between them and I really hope the next book does something about that.
I am ready to start the next book and find out what happens with Loki and Logan. Here's to hoping the next book doesn't have a giant summary. You can buy Kiss of Frost here.
Touch of Frost by Jennifer Estep (Mythos Academy #1)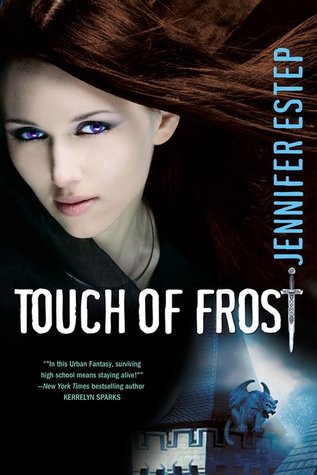 Goodreads Summary: My name is Gwen Frost, and I go to Mythos Academy; a school of myths, magic and warrior whiz kids, where even the lowliest geek knows how to chop off somebody's head with a sword and Logan Quinn, the hottest Spartan guy in school, also happens to be the deadliest. But lately, things have been weird, even for Mythos. First, mean girl Jasmine Ashton was murdered in the Library of Antiquities. Then, someone stole the Bowl of Tears, a magical artifact that can be used to bring about the second Chaos War. You know, death, destruction and lots of other bad, bad things. Freaky stuff like this goes on all the time at Mythos, but I'm determined to find out who killed Jasmine and why; especially since I should have been the one who died…
My Review: I love coming across new series that I have never heard of before when searching through goodreads during a book hangover. I am so excited I found this series because it is right up my alley in terms of what I love reading!
I thought this was going to be a book similar to Hex Hall which is a fantastic series about a school full of magic and whatnot, but this book far exceeded my expectations. It not only had fighting and some action, but drama, romance, and is mythology based. If you haven't noticed from what I have blogged on so far, this is like the ultimate compilation of book aspects that I love. The plot was developed pretty quickly but continued growing and changing and even though part of it was resolved in the end, there was still that small cliffhanger making me desperate for more.
There wasn't too much romance in this book, but there was a lot of anticipation which is so adorably frustrating! I'm starting to love Logan and I can't wait to see what is in store with this relationship that is inevitably happening. I also love Daphne, who I thought was going to be my enemy…yeah, long story.
The whole being a Champion thing for a goddess is seriously awesome and even though I have read books with that basic idea before, this book has been original and I don't think I will be able to anticipate what is going to happen with anything. If romance, action, special magic schools, and mythology are interesting to you, I really think you should give it a read. You can buy Touch of Frost here.
The Queen of Zombie Hearts by Gena Showalter (White Rabbit Chronicles #3)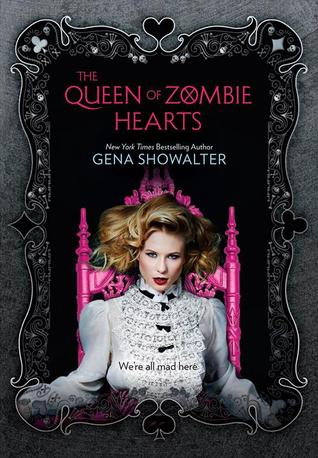 Goodreads Summary: I have a plan.
We'll either destroy them for good, or they'll destroy us.
Either way, only one of us is walking away.
In the stunning conclusion to the wildly popular White Rabbit Chronicles, Alice "Ali" Bell thinks the worst is behind her. She's ready to take the next step with boyfriend Cole Holland, the leader of the zombie slayers…until Anima Industries, the agency controlling the zombies, launches a sneak attack, killing four of her friends. It's then she realizes that humans can be more dangerous than monsters…and the worst has only begun.
As the surviving slayers prepare for war, Ali discovers she, too, can control the zombies…and she isn't the girl she thought she was. She's connected to the woman responsible for killing—and turning—Cole's mother. How can their relationship endure? As secrets come to light, and more slayers are taken or killed, Ali will fight harder than ever to bring down Anima—even sacrificing her own life for those she loves.
My Review: I cannot believe this series is over already! This book did not disappoint me in any way.
The entire book was fast-paced and action packed. There was not a single lull or time when I wanted something to happen. There were so many fights and attacks and it was fantastic. There weren't as many zombies in this book as the last which actually didn't bother me too much because it didn't affect the amount of action.
The plot picked up from where the last book left off and went places that I never thought the author would go. In particular there was a plot twist 10% before the end of the book and I was so thrown off by that because I didn't think a huge plot could be resolved in such a short amount of time but the author surprised me in a really good way. The visions were also really frustrating in this book and the whole seeing ghosts or "witnesses" as they are called in this book was weird but I still wouldn't change it if I had the opportunity because it made for such an interesting story.
The romance in this book was as great as in the last ones. I am ridiculously in love with Cole and I probably always will be to be quite honest. The only thing that bothered me about Ali and Cole was how much she pressured him to have sex with her. It was kind of annoying at times but I still love them. The other couples in this book are equally as adorable, though the guys were not as swoon-worthy as Cole. My favorite character is Kat and I find myself now saying some of her sayings like "that is so cake" in real life because for a time, she felt like my real friend.
This series made it into my favorites list and I am in a deep depression now that it is over. I am so glad I read this series and I hope I inspired someone else to read it and I hope they love it as much as I did. You can buy The Queen of Zombie Hearts here.
Through the Zombie Glass by Gena Showalter (White Rabbit Chronicles #2)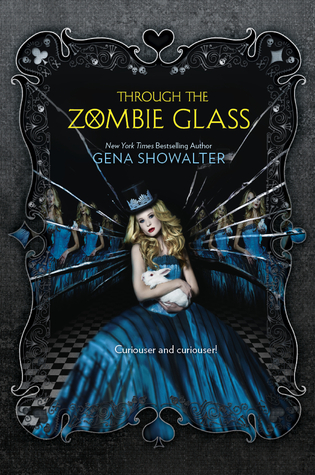 Goodreads Summary: Zombies stalk the night. Forget blood and brains. These monsters hunger for human souls. Sadly, they've got mine…
Alice Bell has lost so much. Family. Friends. A home. She thought she had nothing else to give. She was wrong.
After a new zombie attack, strange things begin to happen to her. Mirrors come to life, and the whispers of the dead assault her ears. But the worst? A terrible darkness blooms inside her, urging her to do very wicked things.
She's never needed her team of zombie slayers more, but ultra bad-boy Cole Holland, the leader and her boyfriend, suddenly withdraws from her…from everyone. Now, with her best friend Kat at her side, Ali must kill the zombies, uncover Cole's secret and learn to fight the darkness.
But the clock is ticking…and if she fails at a single task, they're all doomed. 
My Summary: I will start off by saying that this book is dangerous. I was obsessed and at some point in the book I felt as if I could actually go out and fight zombies…if only, right? Well, that is how amazing this book was. If I feel like I can be the main character in real life, the book was successful.
Zombies are fantastic and the fight scenes against zombies are even better. Bloody and violent scenes are often my favorite part and this book did not disappoint. I was also happy that there was a plot behind the zombie fights and I know I said this about the first book but the plot only developed more and became more addictive. I did get confused at times because there were three or four different groups of people each fighting different things and it was hard to keep track of at first, but that did not deter me at all and I learned to follow. The subplot with the Zombie Alice was also really interesting twist on the story. I kind of saw it coming because of the title, but I wasn't sure how Showalter was going to pull it off. I got really irritated with it at some points because it really was a frustrating situation but I loved it all the same.
Cole. He found his place in my heart and will probably remain there until the end of time. I can hardly describe in words how much I love him and his badassery (not a word but really describes him) and his secret compassion. I love every side of him and cannot wait to see more of him in the next book!
I am so addicted to this series that I will probably be staying up into the darkest hours of the night to finish it off and then go into a deep depression. If you have the urge to join me on this journey, then you can buy Through The Zombie Glass here.
Alice in Zombieland by Gena Showalter (The white rabbit chronicles #1)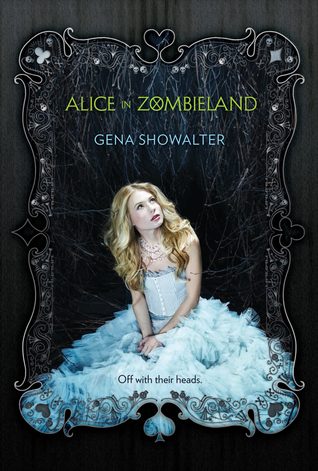 Goodreads Summary: She won't rest until she's sent every walking corpse back to its grave. Forever.
Had anyone told Alice Bell that her entire life would change course between one heartbeat and the next, she would have laughed. From blissful to tragic, innocent to ruined? Please. But that's all it took. One heartbeat. A blink, a breath, a second, and everything she knew and loved was gone.
Her father was right. The monsters are real….
To avenge her family, Ali must learn to fight the undead. To survive, she must learn to trust the baddest of the bad boys, Cole Holland. But Cole has secrets of his own, and if Ali isn't careful, those secrets might just prove to be more dangerous than the zombies….
I wish I could go back and do a thousand things differently.
I'd tell my sister no.
I'd never beg my mother to talk to my dad.
I'd zip my lips and swallow those hateful words.
Or, barring all of that, I'd hug my sister, my mom and my dad one last time.
My Review: This series is a twist on Alice in Wonderland where Alice is a zombie fighter. I've had this series on my TBR list for awhile and I finally decided to read it now that the whole series is concluded and thanks to a good friend of mine!
Alice and Zombieland had a few references to the classic novel, the chapter titles in particular and I loved that about this book. I immediately fell in love with every character and was crushed right at the start which was impressive of the author because the characters weren't even developed at that point. I especially fell in love with Cole, the main love interest in this book. He is a gorgeous sexy badass who has visions with Alice and I am in love with him so hard. Their struggles and fight to be together was so hard on me because I am always rooting for them.
The zombies in this book were awesome. I love zombies, I love fighting and both of those things together plus blood makes for an epic story. The romance was totally a plus. The problem with this book is that I want to be in the book in real life and fighting zombies is not a good hobby… Anyway, the description of the zombies and the fact that there is a real plot line and not just the zombie apocalypse was awesome and definitely not like other zombie books I've read before. They weren't like normal zombies and it was completely original and I loved every minute of reading this book! I cannot wait to read the next one. I am obsessed.
You can buy Alice in Zombieland here.
A Demon Made Me Do It by Penelope King (Demonblood #1)
Goodreads Summary: Half human, half demon Liora Greyson just wants to survive her final year of high school unscathed, her dark secret intact. But the walls she's carefully constructed to keep people out crack wide open once she meets the sexy and mysterious Kieron Ambrose, and he lights her cold world on fire.
But it turns out Kieron has a few dark secrets of his own. Secrets that will either save or destroy her.
My Review: I got this book free on Barnes and Noble for nook during a deal and decided to give it a go!
This is the first paranormal romance I have read in what feels like forever and I am so excited that I read it. When I first started reading it, I didn't know that the book was going to be about the human and the demon. Their situation is really weird because they share one body and they are awake at different times and it took me a little while to figure out how everything works but I never understood why it is like that. That aspect of the story alone was interesting enough to make me want to read more.
The plot of the book was action packed, romantic, and addictive. Demon hunting is always something I enjoy reading about and having a swoon-worthy guy in it can never hurt. The story line was constantly moving and when the human part of the book with normal plot lines got slow then the demon plot lines picked it up again and kept me completely invested in the story. Kieron was a dreamy guy that appeared in both story lines, lucky me. I have to say that even though it took a while for me to fall in love with this guy and move on past debating whether or not he was a good guy, I did love him. I still probably would have loved him if he was a bad guy because the author did such a good job of writing him.
This book ended too soon, which is good for the author I guess. I was addicted to the story and couldn't do anything that would pull me out of the world and then it ended. I hate cliffhangers in books because I can never stop thinking about them after I finish the book. I want to read the next ones and find out what happens but there are so many more books on my TBR list that I have to read! Stay tuned.
I would definitely recommend this book to anyone who likes fantasy and paranormal romance. It is a fantastic read. You can buy A Demon Made Me Do It by Penelope King here.
Ironskin (#1) by Tina Connolly
Goodreads Summary: Jane Eliot wears an iron mask.
It's the only way to contain the fey curse that scars her cheek. The Great War is five years gone, but its scattered victims remain—the ironskin.
When a carefully worded listing appears for a governess to assist with a "delicate situation"—a child born during the Great War—Jane is certain the child is fey-cursed, and that she can help.
Teaching the unruly Dorie to suppress her curse is hard enough; she certainly didn't expect to fall for the girl's father, the enigmatic artist Edward Rochart. But her blossoming crush is stifled by her own scars, and by his parade of women. Ugly women, who enter his closed studio…and come out as beautiful as the fey.
Jane knows Rochart cannot love her, just as she knows that she must wear iron for the rest of her life. But what if neither of these things is true? Step by step Jane unlocks the secrets of her new life—and discovers just how far she will go to become whole again.
My review: I read this book for class, yes I know, we read a lot of books. Anyway, I wasn't sure what to think about it and I still honestly don't know if I liked it or not. It was definitely an interesting twist on Jane Eyre, one of my favorite books of all time, and I was kind of nervous to read about Jane Eyre in a magical world. It was ehh. It was a quick read, quicker than the original Jane Eyre that's for sure, but the only thing new about it was that there are fey in this world and magic which is awesome, but I don't think it needed to be a Jane Eyre transformation.
The characters were basically the same, some had different names. Jane Elliot in this book is Jane Eyre (Jane Eyre goes by Jane Elliot when she runs away so that was fun to pick up on), Edward Rochart is Edward Rochester, and the similarities keep coming. The only odd thing was that Connolly decided to keep Helen alive as Jane's sister which was an interesting choice. The little girl Jane is a governess for was also really important in this book, like the entire book revolved around her for the most part which was kind of entertaining even though the plot wasn't very developed.
The plot was somehow extremely similar to Jane Eyre (even though it is a fantasy), meaning there wasn't much to it. Jane is a governess, she watches a little girl, she might be falling in love with Edward so she leaves for awhile, she comes back and something bad happens and then Jane and Edward are in love and there is a happy ending (even though this book is the first in a trilogy I feel like it could have ended with this book). There is never romantic development, it's like "I've talked to him three times but BAM I love him" and I know that's how the original Jane Eyre was but I feel like this book could have explored that more. There was also so much room for a plot line, the author could have done so much with this but she stuck to the Jane Eyre plot which was kind of disappointing.
This book was okay, but definitely did not live up to Jane Eyre in my mind. Maybe I'm biased, you can give this book a try. It was fun and adorable and a quick read but I don't think I'll be picking up the next books in the trilogy anytime soon.
You can buy Ironskin here.
United Eden by Nicole Williams
Goodreads Summary: Life's been many things for twenty year old Bryn Dawson, but one thing it's never been is easy. And it's only about to get harder.
As the gossip of Bryn being Betrothed to her true love's little brother, Patrick, becomes more reality than rumor, Bryn does her best to think positive thoughts, ignore Patrick's odd behavior, avoid Paul's relentless advances, and attempts to conjure William back from his latest overseas mission. She fails on all fronts.
The night an army of Inheritors set out with an agenda to deliver vengeance on any Guardian surrounding Bryn, the Betrothal Ball becomes the least of her worries. Instead of worrying about who she'll be marching down the aisle towards, she has to accept she might not be making the journey down the aisle ever.
My Review: Okay, I realize that I have not posted a review in three weeks…yikes…but I am working on reading and blogging as much as possible! Anyway, my short review without spoilers is that I loved this book as much as I loved the other two and it was a wonderful conclusion to a trilogy that I fell in love with at the start. The characters were more developed, especially Patrick (the comic relief), the plot took a while to pick up but I enjoyed the slow subplot of the betrothal, and the romance was beautiful and addicting!
Now for the review WITH SPOILERS! I spent the entire first quarter of the book freaking out about the Betrothal. As soon as the last book ended and the father agreed to grant Bryn a betrothal into the Hayward family, I recognized the ambiguity of his wording which brings me back to… I was freaking out! I do love Patrick, but I did not want Bryn to have to marry him and his "true love" for her was also a complicating matter. It's almost a love triangle, but not…! I am in love with William Hayward and like I said in a past review, when I stopped reading I was depressed that he was not actually my boyfriend and that he is not real. The anxiety leading up to the betrothal for Bryn was awful and I was so afraid Nicole Williams was going to crush me because sometimes authors enjoy doing that, but Williams was nice and the moment William's name was announced was a swoon-worthy moment and one of my favorites in the book. Throughout the book, the romance continued to grow and even after Bryn got taken, the romance was still so amazing without being overwhelming.
The plot at first was just romantic and about the Betrothal which kept me reading and I was completely absorbed. I was really surprised at how much I liked this portion of the book because usually I don't like purely romantic plots but hey…props to Williams. The solely romantic part of the book didn't last too long and the book soon took a turn for the worse and the antagonist captured Bryn. Although I was entertained by this, I wasn't surprised because the antagonist who loves the protagonist always captures her.
The scenes where Bryn is locked in a cage and a war is brewing were some of my favorites. Patrick shows up and spends time with her which is totally adorable even though somewhat awkward because of his love for her, but I still love him and his personality. When Bryn gets out of the cage and sees the war, I was reminded of the Trylle books by Amanda Hocking and the battle scene from those books because the scenes were written really similarly. I liked everything that Williams did with the book and the fight and the love and balancing it all perfectly and I am so glad I read this series. If I had to pick a favorite book of this trilogy I would say the first but that's just because my favorite part of romance in books is the beginning, but I always do love a happy ending so the last book was amazing too!
I definitely recommend this book for those who like fantasy or paranormal romance. You can buy United Eden, the conclusion of the Eden Trilogy by Nicole Williams here.
Fallen Eden by Nicole Williams (Eternal Eden #2)
Goodreads Summary: If happily ever after were a place, twenty-year-old Bryn Dawson would be on the farthest planet from it.
Reduced to stolen glances and secret meetings as they await a Betrothal the Council is bent on stalling, William and Bryn have to settle for happily right now, but with a man like William Hayward at her side, Bryn's hardly settling.
The day John Townsend sends an army of Immortal mercenaries intent on destroying everyone Bryn loves, she must make the decision generations of star-crossed lovers before her have—live alone or die together. William's made his decision, Bryn's the one fate's waiting on.
But fate will only wait so long until it makes the decision for her.
My Review: This book was even better than the first, and I loved the first book! This story is just so enticing and it isn't anything crazy, new, or original but I find myself addicted to it nonetheless. The book started with a purely romantic plot, which was William and Bryn fighting to get a betrothal. The book then took a turn for the worst when John's men came to take her and bryn's power almost killed the people she loves. Usually in paranormal romance books, it seems that the guy leaves the girl to keep her safe so I thought that was going to happen, but it was actually the reverse! I liked that, even though as a reader I wanted nothing more than for them to be together.
The ending…it's tough to give my opinion without spoilers but I will say that I was so anxious reading and waiting to see who Bryn would get granted a betrothal to. I remember thinking about how mad I would be if things didn't go the way I wanted…I cannot say now if I am pleased or not! The ending was well written and summed up the story leaving room in the plot for book three which I cannot wait to finish!!!
I definitely think you should read this series if you're into paranormal romance because they keep getting better! I am even more in love with William than I was when I read the first book! You can buy fallen eden here.
Eternal Eden by Nicole Williams
Goodreads Summary: College sophomore Bryn Dawson is a self-proclaimed poster child for normal. However, the day William Hayward enters her life, normalcy is the last thing Bryn will be able to count on if she wants to be with him. Too mysterious and appealing to be good for a girl, Bryn feels drawn to him in a way that seems out of her control—as if fate is orchestrating it.
Despite every red flag and warning siren going off in her head telling her not to, Bryn falls hard for William, knowing he's categorically different from anyone she's ever met. She never imagined how right she was. When William takes her deeper into the rabbit hole of his world, Bryn must decide just how much she is willing to sacrifice to be with him, knowing no matter what, fate always finds a way to have the last laugh.
Spinning a new twist on star-crossed lovers, Eternal Eden will put Bryn through a gauntlet of turmoil, challenging her to find the power within herself to become the heroine in her own story.

My Review: This book was one of the best paranormal romance books I have ever read. Of course it was super cheesy and stupid and boy meets girl and it starts out with them not liking each other at all and then BAM! Yeah, super cliché and I knew what was going to happen as soon as I started reading it (with the romance) but I loved it anyways! The romance was super adorable and I lived through it and I am in love with William and he is definitely swoon-worthy!
The plot didn't really happen until like half way through and I thought I would get bored with the slow pace, but in this book I didn't and I just enjoyed all of the happiness and tried to absorb it before the plot came in and twisted and ruined everything. The real plot though was super interesting, I thought these "Immortals" were going to be vampires or something but they aren't and I don't really know what they are, they share some vampire-like attributes but were pretty original. It was really interesting to read about them, and then the plot twist with the betrothal thing and with another character named Patrick, I won't include any spoilers but the twists were interesting and I actually didn't see them coming.
This book was amazing! I cannot wait to read the next two and see what happens with William and Bryn! This book was definitely worth every minute, it absorbed me and made me forget about real life! I was upset when I stopped reading and realized that William is not my boyfriend. Anyway, you can get Eternal Eden on amazon for free here! Read it if you like dumb books like twilight that you don't want to like but you do anyways. If that applies to you, trust me.
Opposition by Jennifer L Armentrout
Goodreads Summary: Katy knows the world changed the night the Luxen came.
She can't believe Daemon welcomed his race or stood by as his kind threatened to obliterate every last human and hybrid on Earth. But the lines between good and bad have blurred, and love has become an emotion that could destroy her—could destroy them all.
Daemon will do anything to save those he loves, even if it means betrayal.
They must team with an unlikely enemy if there is any chance of surviving the invasion. But when it quickly becomes impossible to tell friend from foe, and the world is crumbling around them, they may lose everything— even what they cherish most—to ensure the survival of their friends…and mankind.
War has come to Earth. And no matter the outcome, the future will never be the same for those left standing.
My Review: The finale to the Lux series has finally arrived and I am seriously depressed that it is over and that I won't be reading anything more of Daemon and Katy.
This book started out a bit slow for me and it was just uber frustrating because I had no idea what was going on. It would be like reading the first few chapters of Harry Potter 7 and not knowing who Voldemort was…annoying, right? But as soon as things were explained in this book, it immediately picked up and was amazing, of course!
Throughout the book there were so many funny quotes that had me literally laughing out loud and the people around me probably thought I was slightly insane. JLA has such a unique writing style and such random hilarious sayings that make her books even more amazing. I also love how she referenced some of my favorite series in this book including Twilight, the Sweet Evil trilogy, and Harry Potter multiple times, which made me love her book so much more! I love that her character is a book nerd such as myself because I can relate to her on a different level. The connection to her spinoff novel about the Arum, Obsession, made me all giddy inside and I was almost clapping and jumping up and down…I love when stories connect and understanding everything about Hunter and Serena (characters from Obsession) made them so much easier for me to accept in this book and I am glad JLA included them!
The action was pretty much nonstop throughout the entire book, making it a super easy and quick read. The book picked up where the last one left off and the plot was so intense! All of the pieces came together in this book and some catastrophic things happened to Kat and she had an understandable breakdown (which Daemon was heartbreakingly amazing during) and I am so glad JLA did not make Kat go off the deep end or become a martyr! Then there was the romance between the action! Gods…the romance in this book was breathtaking at times. This book was definitely the most romantic of the series and it still managed to not be overwhelmingly romantic. I loved loved loved the romance, I had to say it multiple times because I cannot think of any other words to express my obsession with Daemon Black. I will say that by this point in time, JLA has probably ruined real life boys for me because Daemon is so perfect with both his sweet protective side and his douchey badass side. I am in love with a fictional character and I am depressed to have to say goodbye.
The only part of the ending I did not like was the return of that mysterious note that daemon wrote to kat in class in the beginning of the series! I guess we shall never know what was on that note, but knowing daemon, it was not appropriate and heartfelt…anyways, the epilogue was amazingly beautiful. I am not a huge fan of epilogues usually because they are overly chiche and gooey and boring but this epilogue was wonderfully perfect and swoon worthy like the rest of the book, and honestly one of the greatest endings to a series ever. I am going to miss Daemon and Kat so much and I hate saying goodbye to one of my favorite series.
If you have not yet read the lux series, please do so immediately. You can buy Opposition here.
Goodbye Daemon Black, you will forever be in my heart!
Shadows by Jennifer L Armentrout
Goodreads Summary: The last thing Dawson Black expected was Bethany Williams. As a Luxen, an alien life form on Earth, human girls are…well, fun. But since the Luxen have to keep their true identities a secret, falling for one would be insane.
Dangerous. Tempting. Undeniable.
Bethany can't deny the immediate connection between her and Dawson. And even though boys aren't a complication she wants, she can't stay away from him. Still, whenever they lock eyes, she's drawn in.
Captivated. Lured. Loved.
Dawson is keeping a secret that will change her existence…and put her life in jeopardy. But even he can't stop risking everything for one human girl. Or from a fate that is as unavoidable as love itself.
My Review: JLA never fails to disappoint when it comes to the Black family! Although this is the prequel to the Lux series, I didn't read it until recently even though I read the lux series a while ago! I wish I would have because the whole time I read the Lux series, I wasn't very empathetic towards Bethany and Dawson and I didn't like the way they acted all of the time and I just wanted the story to get back to Daemon because I loved him. Now, however, I completely understand Bethany and Dawson, I love their story, and I am in love with Dawson, another Black brother.
This book way exceeded my expectations, I guess I should expect nothing less from JLA! The plot was amazing and addicting, even though I knew what was going to happen I was still completely gone to the real world while I read it! The romance was amazing, adorable, and swoon-worthy of course! I am so in love with Dawson now because of this book and I love his relationship! His protectiveness that happened right away against everything he was raised as and the descriptions of his body and personality were sexy and loveable and I cannot believe I waited to read this book for so long.
The newest Lux book was finally released and I am going to reread the rest before I read the new one so I can relive everything, especially Daemon. Everybody should read this book and then continue on and read the Lux series because they are some of the most amazing books in the world. You can buy Shadows here.
Silence and Finale by Becca Fitzpatrick
Goodreads Summaries:
Silence: Nora Grey can't remember the past five months of her life. After the initial shock of waking up in a cemetery and being told that she has been missing for weeks – with no one knowing where she was or who she was with – she tried to get her life back on track. Go to school, hang out with her best friend, Vee, and dodge mom's creepy new boyfriend.
But there is this voice in the back of her head, an idea that she can almost reach out and touch. Visions of angel wings and unearthly creatures that have nothing to do with the life she knows.And this unshakable feeling that a part of her is missing.
Then Nora crosses paths with a sexy stranger, whom she feels a mesmerizing connection to. He seems to hold all the answers…and her heart. Every minute she spends with him grows more and more intense until she realizes she could be falling in love. Again.
Finale: Nora and Patch thought their troubles were behind them. Hank is gone and they should be able to put his ugly vendetta to rest. But in Hank's absence, Nora has become the unwitting head of the Nephilim and must finish what Hank began. Which ultimately means destroying the fallen angels – destroying Patch.
Nora will never let that happen, so she and Patch make a plan: lead everyone to believe they have broken up, and work the system from the inside. Nora will convince the Nephilim that they are making a mistake in fighting the fallen angels, and Patch will find out everything he can from the opposing side. They will end this war before it can even begin.
But the best-laid plans often go awry. Nora is put through the paces in her new role and finds herself drawn to an addictive power she never anticipated. As the battle lines are drawn, Nora and Patch must confront the differences that have always been between them and either choose to ignore them or let them destroy the love they have always fought for.
My Review: These two books were definitely better than book two…I wasn't a huge fan of all of the romance in that book but these definitely stepped it up and took on a more real plot that I could easily enjoy. I get super irritated when characters lose their memories after being through so much and Silence bugged me to no end because I knew everything but Nora did not remember anything about who she was or Patch which was torturous. Then after she started getting her memories back, the plot resumed itself and got crazier than ever! I always love training scenes in books, I don't know why that is, but there were a number of them in Finale, none of them short of amazing. The whole leading an army of Neph was also really interesting the way Fitzpatrick wrote it. As interesting as the plot was though, I still found myself fighting to push through the series because I wanted to know what happened but it was hard reading it.
The romance wasn't great. It was present and cute but I didn't really feel myself being attached to the characters as I have in the past with other good series.
I liked these books alright, they aren't my favorite and I probably won't ever reread them, but if you ever find yourself in a lull then I would recommend them to get you through it. Otherwise, you're probably okay with not pushing through them. They weren't bad but they weren't as good as I anticipated so I was a little let down.
You can buy the Hush Hush series here.
Crescendo by Becca Fitzpatrick
Goodreads Summary: Nora Grey's life is still far from perfect. Surviving an attempt on her life wasn't pleasant, but at least she got a guardian angel out of it. A mysterious, magnetic, gorgeous guardian angel. But despite his role in her life, Patch has been acting anything but angelic. He's more elusive than ever (if that's possible) and what's worse, he seems to be spending time with Nora's archenemy, Marcie Millar.
Nora would have hardly noticed Scott Parnell, an old family friend who has moved back to town, if Patch hadn't been acting so distant. Even with Scott's totally infuriating attitude, Nora finds herself drawn to him – despite her lingering feelings that he is hiding something.
If that weren't enough, Nora is haunted by images of her murdered father, and comes to question whether her Nephilim bloodline has anything to do with his death. Desperate to figure out what happened, she puts herself in increasingly dangerous situations to get the answer. But maybe some things are better left buried, because the truth could destroy everything – and everyone – she trusts.
My Review: This book was not as good as the first one. The majority of the book was entirely about romance and any hint of a plot was just about the relationship and jealousy. I did not care for the first half of the book at all. I wasn't as connected to the characters as I normally am in books, so I didn't really feel the emotions and I honestly don't like stories that are overwhelmingly about romance.
The last hundred pages were the reason I read the book. The real plot developed, the action started and new information was revealed. There were a few twists that I never saw coming and I got so excited and blown away from them that it made me like the book overall. Toward the end I also started liking Patch which was a relief because if so much time is going to be spent on the dang relationship I at least want to like him. I decided to read the next one because the plot twist at the end was too crazy to ignore and I have to see what happens.
I also really like the whole angel and fallen angel thing. I've been reading a lot more of these books lately and I am glad I came across this series, though not the best I've read. Touching the scars and getting visions is definitely the thing that sets these angels apart from angels from other books. I'm enjoying this series for the most part and am not going to stop now.
You can buy Crescendo here.
Hush, Hush by Becca Fitzpatrick
Goodreads Summary: Romance was not part of Nora Grey's plan. She's never been particularly attracted to the boys at her school, no matter how hard her best friend, Vee, pushes them at her. Not until Patch comes along. With his easy smile and eyes that seem to see inside her, Patch draws Nora to him against her better judgment.
But after a series of terrifying encounters, Nora's not sure whom to trust. Patch seems to be everywhere she is and seems to know more about her than her closest friends. She can't decide whether she should fall into his arms or run and hide. And when she tries to seek some answers, she finds herself near a truth that is way more unsettling than anything Patch makes her feel.
For she is right in the middle of an ancient battle between the immortal and those that have fallen – and, when it comes to choosing sides, the wrong choice will cost Nora her life.
My Review: This book has been on my TBR list for a while now and I finally read it! It was a bit slow for a little over a half of the book but the plot was so interesting and even though I got frustrated waiting for all of the secrets to come out into the open, I kept reading because I couldn't take the anticipation. Once everything came out and the story line completed itself for the most part, the story picked up and it became a much quicker read.
Overall, I really enjoyed this book and the whole fallen angel thing, which is a new common topic for the books that I have been reading. The romance was  annoying to me because I couldn't decide if I liked Patch or not. He had that whole sexy bad boy vibe which was attractive as far as fiction boys go, but the whole time I thought there was something off about him so I didn't develop my feelings for him until towards the end which was kind of a let down! But I am definitely going to read the next book because the plot finally picked up and I have to know what is going to happen next! Until next time!
You can buy Hush, Hush here.
My Blood Approves by Amanda Hocking
Goodreads Summary: Teenager Alice Bonham's life feels crazy after she meets Jack. With his fondness for pink Chuck Taylors and New Wave, he's unlike anyone she knows. Then she meets his brother, Peter. Even though he can't stand the sight of her, she's drawn to him. Falling for two guys isn't even the worst of her problems. Jack and Peter are vampires, and Alice finds herself caught between love and her own blood.
My Review: Okay, it is no secret that I love Amanda Hocking! I have read all of the books that she has published so far and have not disliked a single one of them! I was iffy about reading it after checking out reviews because they went both ways but I figured I'd give it a shot because it was a Hocking book! I am glad I read it because I definitely enjoyed it! I didn't read the summary first and I'm glad I didn't because I wasn't completely sure what creatures they were. I mean I had a pretty good idea because it seems obvious but the signs weren't what typical vampires would be. Not quite twilight vampires all sparkley and such, but still not burn-in-the-sun vampires. I loved the unique take she took with vampires!
The love triangle was truly irritating to me because one of the people Alice simply loved physically, because it was meant to be or whatever, and the other because she honestly grew to love him. I did NOT like the destiny she had, being made for Peter, because whenever she wasn't around him she honestly didn't like him and it was so frustrating when you just know you love Jack and she can't be with him. The whole forbidden love thing always makes the forbidden guy seem more attractive and desirable, but the entire situation was so frustrating and it never ends!
The book wasn't as action filled as the books I typically enjoy reading and the plot wasn't that serious or anxiety filled, but for some reason, I was attached to the book. I fell in love with the characters and felt what the character felt, including her love, fear, anxiety, and sadness! I love books like this and I am glad I read it. However, I checked on Amanda Hocking's blog and I am super depressed that she has not yet published the last book and may never do so. In 2011, she said she may or may not write the last one, she may just publish the outline so the readers have closure but there weren't too many loose ends to wrap up. I am so upset about this that I cannot decide if I want to continue to read the series, only to be disappointed that the series may never end.
You can buy My Blood Approves here.
Demonosity by Amanda Ashby
Goodreads Summary: An ancient myth + a mean girl + a reluctant warrior = a lively take on good vs. evil
The Black Rose–a powerful ancient force–has been let loose and has taken up residence in Celeste Gibson, popular girl at Cassidy Carter-Lewis' high school. Thomas Delacroix is the spirit of a fourteenth-century knight who is devoted to protecting the Black Rose, but he needs a contemporary living being to take on the challenge. That's where Cassidy comes in. She's a quirky high school junior who just wants to dress in her vintage clothes, hang out with her best friend, and take care of her father, who is recovering from surgery. She's the last person who would ever volunteer for such a task, but no one actually asked her. Now, like it or not, she finds herself training before dawn and battling demons at parties, the mall, and even at school. But hey, no one ever said high school was going to be easy.
My Review: I got this book free after finishing a summer reading program and I honestly wasn't expecting much because I have previously gotten some pretty dry books from this program. This book definitely surpassed my expectations! It was not the greatest stand alone book I have ever read, but it was a quick and enjoyable read. I like books about demons and fighting with a touch of romance and this book had all of that, it just wasn't as strong as with other books I have read.
The demon slaying was pretty epic and the plot line was interesting enough. The characters to me, though, seemed a bit too underdeveloped for me to have a connection to them to where I could feel what they were feeling. It was good most of the time and definitely improved as the book went on. The romance was kind of whatever for me…it was there for a second and then it changed immediately and it was a bit confusing, but I happily went with it. I liked the whole guardian thing and the training because for some reason I always love training scenes in books.
I would recommend this book for a quick read if you like magical books. It was definitely a good read and better than I thought so kudos to the library for picking a good book to award people with. You can buy demonosity here, or if you live in AZ you can pick this book after finishing the summer reading program at your library.
Last Sacrifice by Richelle Mead
Goodreads Summary: Rose Hathaway has always played by her own rules. She broke the law when she ran away from St. Vladimir's Academy with her best friend and last surviving Dragomir princess, Lissa. She broke the law when she fell in love with her gorgeous, off-limits instructor, Dimitri. And she dared to defy Queen Tatiana, leader of the Moroi world, risking her life and reputation to protect generations of dhampir guardians to come.
Now the law has finally caught up with Rose – for a crime she didn't even commit. She's in prison for the highest offense imaginable: the assassination of a monarch. She'll need help from both Dimitri and Adrian to find the one living person who can stall her execution and force the Moroi elite to acknowledge a shocking new candidate for the royal throne: Vasilisa Dragomir.
But the clock on Rose's life is running out. Rose knows in her heart the world of the dead wants her back…and this time she is truly out of second chances. The big question is, when your whole life is about saving others, who will save you?
My Review: Finally I got my hands on the last Vampire Academy book and it was even better than I had anticipated! I wasn't sure how entertaining a story about Rose in a cell would be but I totally underestimated the author. The plot line was addicting and stressful! I felt everything the main character felt, that's how good this story was. I can't say too much about the plot or it will ruin every twist there is, but I can say, I wasn't sure what was going to happen until things started winding down in the last hundred pages or so. Lissa's plot was also super interesting and I really enjoyed reading which I was excited about because usually I didn't care much to read about her. Every aspect about this book was amazing.
The romance was so frustrating the whole time! I will just say I never stopped being team Dimitri, I usually still like the first guy I fall in love with in a story. Him not being able to love and forgive was almost irritating but I still loved all of the writing about him and Rose. The love triangle in the book was entertaining as all love triangles are and I am in love with the story and find myself thinking about it even now after I finished it. There wasn't as much action as politics in this one which was kind of a disappointment to me, being the action lover that I am, but the book still perfectly finished off the series. This is one of the few conclusions that I have no complaints about at all, I would not change a thing about it and I am so happy I read this series.
The vampire academy series made its way onto my top series list and if you have not read it, I advise you to. You can buy Last Sacrifice here.
Spirit Bound by Richelle Mead
Goodreads Summary: Dimitri gave Rose the ultimate choice. But she chose wrong…
After a long and heartbreaking journey to Dimitri's birthplace in Siberia, Rose Hathaway has finally returned to St. Vladimir's-and to her best friend, Lissa. It is nearly graduation, and the girls can't wait for their real lives beyond the Academy's iron gates to begin. But Rose's heart still aches for Dimitri, and she knows he's out there, somewhere.
She failed to kill him when she had the chance. And now her worst fears are about to come true. Dimitri has tasted her blood, and now he is hunting her. And this time he won't rest until Rose joins him… forever.
My review: I can hardly express the love I feel for this series. I did not expect to be so in love with this series when I first put it on my TBR list, but after reading the first two I just couldn't stop. This book was an obsession! I can't say for sure if it was my favorite so far but it was definitely just as good as the rest, if not better. Her continuation of the previous book's cliffhanger is fantastic and it dove right in without a long introduction which I love about this book.
The plot in this book was insane because Dimitri is back, kind of, and the whole situation with him just grows worse in a different way than I originally thought. The temporary family for Rose made me think about how my family is nothing like them so it was amusing to read about. I once again fell in love with vampires and the whole magical scenery and the whole badass-demon-hunting vibe that I got from Rose! I love all of the action that these books hold and that it isn't overwhelming and that it has a deep plot and subplots. Lissa's subplot did not concern me very much in this book which I was actually okay with because I have always enjoyed the main character's POV more.
I have got to say, being a sucker for romance in books like these, I did not enjoy it in this book very much. I liked it in the previous books but in this book it was…too much I guess? I was alright with that and it didn't make me like the book any less but I still would have preferred if the extra romance with Adrian wasn't there at all. It seemed like an excess subplot to me.
The ending of this book (the last third or so) was intense! I had an idea for what was coming with most things but there was one giant twist-it would be a huge spoiler so I won't say-that blew my mind. It seems like this author is skilled at doing that and I loved it. However, by doing so, Read created a horrible cliffhanger that is destroying my heart and mind! I have been obsessing about it since I finished. It was so genius and I am dying to get my hands on the next book which I will hopefully be doing soon. You can buy Spirit Bound here.
Blood Promise by Richelle Mead
Goodreads Summary: The recent attack on St. Vladimir's Academy devastated the entire Moroi world. Many are dead. And, for the few victims carried off by Strigoi, their fates are even worse. A rare tattoo now adorns Rose's neck, a mark that says she's killed far too many Strigoi to count. But only one victim matters … Dimitri Belikov. Rose must now choose one of two very different paths: honoring her life's vow to protect Lissa—her best friend and the last surviving Dragomir princess—or, dropping out of the Academy to strike out on her own and hunt down the man she loves. She'll have to go to the ends of the earth to find Dimitri and keep the promise he begged her to make. But the question is, when the time comes, will he want to be saved?
Now, with everything at stake—and worlds away from St. Vladimir's and her unguarded, vulnerable, and newly rebellious best friend—can Rose find the strength to destroy Dimitri? Or, will she sacrifice herself for a chance at eternal love?
My Review: This book was fantastic! Seriously this series has an amazing way of mixing vampires, magic, ghosts, and fighting which I said before but this book just gets crazier. I love the plot line even though it is super depressing and frustrating at times. I honestly loved how this book was centered around Rose and not Lissa for a change because for some reason her character still annoys me even though I don't think it is supposed to be that way. I also got really angry with the whole Dimitri situation and the whole time Rose was oblivious to everything, her character was different and it was annoying but the author didn't drag it out too long, it was just long enough I think. The subplot with Lissa and the whole twist with having multiple people in the same mind was really epic and the mind fight that happened toward the end was awesome to read about.
The ending was insane and I loved it! Typically, I can figure out what is going to happen in a book and pin it right on, but with this book, the last 100 pages were completely twisted. So many things happened that I didn't even see coming and I get so excited when that happens because it makes for an excellent read. Also, I enjoy that past plots including Victor (the main antagonist from book 1) were brought back because it makes the plot even crazier. The new romance at the end is ify, I am not sure if I like it, I still love Dimitri, but I'm sure the next book will elaborate more on Adrian.
These books keep getting better and better and although I miss the in school training and Dimitri, I am definitely going to finish the series! You can buy Blood Promise here.
Shadow Kiss by Richelle Mead
Goodreads Summary: It's springtime at St. Vladimir's Academy, and Rose Hathaway is this close to graduation. Since making her first Strigoi kills, Rose hasn't been feeling quite right. She's having dark thoughts, behaving erratically, and worst of all… might be seeing ghosts.
As Rose questions her sanity, new complications arise. Lissa has begun experimenting with her magic once more, their enemy Victor Dashkov might be set free, and Rose's forbidden relationship with Dimitri is starting to heat up again. But when a deadly threat no one saw coming changes their entire world, Rose must put her own life on the line – and choose between the two people she loves most.
My Review: This book was the best in the series so far! I flew through this book, and when I wasn't reading it, I was going through withdrawals from it which only happens in fantastic reads. The plot was genious, aspects from the first book came up that I had forgotten about including the antagonist Victor himself! I love when authors connect their books together so it feels like a series and not a bunch of individual books. The plot was intense and the action was as great as ever. The magic took a bigger role in this book than in the past two which I enjoyed because magic is one of my favorite things to read about and I didn't see it connecting to vampires much but Richelle Mead made it work.
Twisting in the shadow kissed thing into the plot was amazing. I knew the book would have something to do with it but the way she did it was something I didn't think would make much sense. As the plot grew more complex, though, everything pieced together and vampires, magic, and ghosts mixed in one story which seems insane but it is really entertaining. The romance was awesome because I love Dimitri and I grew to love Christian as well. Dimitri is an attractive badass which is pretty much exactly how he was described by the author and those are the kind of fiction guys I always love. The subplot of the secret teenage society thing was weird and I didn't understand why it was important to include it until the end. I got frustrated with it at times because I was fed up with it but towards the end, everything pieced together and I saw how smart it really was. The ending was awesome because I always love a good fight and some intense action, and I saw a possibility of the very end happening but I didn't think the author was mean enough to do it. She was. The ending was insane and I am so mad and infuriated and I cannot believe she did what she did! I am going to read the next one immediately because I just HAVE to see what happens but I am so irritated with the situation it is leaking into my everyday life.
I definitely recommend this series because it just keeps getting better and better as I go along. It appeals to people who like vampires, magic, and the paranormal. I love this series and am so glad I had it on my TBR list. You can buy shadow kiss here.
Frostbite by Richelle Mead

Goodreads Summary: Rose loves Dimitri, Dimitri might love Tasha, and Mason would die to be with Rose… 
It's winter break at St. Vladimir's, but Rose is feeling anything but festive. A massive Strigoi attack has put the school on high alert, and now the Academy's crawling with Guardians—including Rose's hard-hitting mother, Janine Hathaway. And if hand-to-hand combat with her mom wasn't bad enough, Rose's tutor Dimitri has his eye on someone else, her friend Mason's got a huge crush on her, and Rose keeps getting stuck in Lissa's head while she's making out with her boyfriend, Christian! The Strigoi are closing in, and the Academy's not taking any risks… This year, St. Vlad's annual holiday ski trip is mandatory. 
But the glittering winter landscape and the posh Idaho resort only create the illusion of safety. When three friends run away in an offensive move against the deadly Strigoi, Rose must join forces with Christian to rescue them. But heroism rarely comes without a price…
My review: I thoroughly enjoyed this book! The continuing of the Strigoi plot was something I honestly forgot about because in the last book they weren't the main bad guys! This book focused on them and of course there was some sexual tension which is a very complicated ordeal. The awkwardness of the bond between rose and Lissa increased because things got hot between Christian and Lissa and I really didn't need to read about that! It was awkwardly funny because of roses mortification! Rose's indecision between being with mason or being hopelessly in love with her trainer dimitri made me jealous because she has two people crazy for her! I do love dimitri though, the forbidden thing is still sexy and they can't avoid each other. The ending was tragic and downright irritating! There is a death and I'm still upset about it but I kind of saw it coming. When people are stupid in books, they usually die…anyways, the ending was also awesome. I missed magic being in the books since Lissa is insane and can't use hers. I liked that magic came back and played a bigger role because I love magic, especially mixed with vampires/moroi! I enjoyed this book much more than the first. This one wasn't slow at all! I blew through it and am diving straight into the next. If you haven't tried this series, I recommend it. And don't let your hatred for sparkling vampires stop you from reading this series. You can buy frostbite here.
Vampire Academy by Richelle Mead
Goodreads Summary: St. Vladimir's Academy isn't just any boarding school—it's a hidden place where vampires are educated in the ways of magic and half-human teens train to protect them. Rose Hathaway is a Dhampir, a bodyguard for her best friend Lissa, a Moroi Vampire Princess. They've been on the run, but now they're being dragged back to St. Vladimir's—the very place where they're most in danger. . . .
Rose and Lissa become enmeshed in forbidden romance, the Academy's ruthless social scene, and unspeakable nighttime rituals. But they must be careful lest the Strigoi—the world's fiercest and most dangerous vampires—make Lissa one of them forever.
My Review: I have had this series on my TBR list for a very long time because I heard such great things about it around when the movie was being released. The book was really good, it was a bit slow at times, but overall I enjoyed the read.
The action began in chapter one which I liked because it didn't take long for the plot to unfold itself. It took a bit to explain the whole bond and the situation they were in, but it was really interesting. I love the fact that they don't call each other vampires, it creates a difference from the typical vampire story. The guardians was also something knew and I liked that original idea, that there were protectors for the royal families. I like the training. The training parts were my favorite for more than one reason, dimitri was one of them, and I love fighting in books!
The royal families were a bit confusing to follow and I still don't quite get how it works, but I just don't think about it too much and move on. I love the main character, I think she is hilarious and I love her attitude and witty remarks. I wasn't the biggest fan of Lissa though, I thought her character was kind of odd and I think I will need to read the next book to really develop my opinion on her. I like Christian, he seems alright and the author didn't spend a lot of time on him so I don't know what I am supposed to think but I will probably get a better opinion in the next book as well. I love Dimitri. Having a crush on an older guy who is the trainer is really weird but it worked and I like him a lot, the whole forbidden love thing was enticing. The epic fight at the end was awesome and I'm not just saying that because I love a good battle scene! It was well written, the bad guy was a person I did not see coming, and the magic was great. Overall, it was a good book. It wasn't as good as everything I heard. I am definitely going to read the next book because I'm interested to see where it goes, seeing as how there wasn't a cliffhanger! I would still recommend this book to people who like vampires and magic! You can buy vampire academy here.
Sweet Reckoning by Wendy Higgins
Goodreads Summary: Evil is running rampant and sweet Anna Whitt is its target. Nobody knows when or how the Dukes will strike, but Anna and her Nephilim allies will do anything necessary to rid the earth of the demons and their oppressive ways.
The stakes are higher than ever, and Anna is determined that the love she feels will be her strength, not a liability. But trying to protect the ones she loves while running for her life and battling demonic forces proves to be perilous—especially as faces are changing and trust is fleeting. When the Duke of Lust sends Anna's great love, Kaidan Rowe, to work against her, Anna must decide how much she's prepared to risk.
In the most sensual and fast-paced installment yet, Sweet Reckoning brings all the beloved Neph together one last time to fight for their freedom.
My Review: These books only got better and this series definitely made its way to the top of my list and Kaidan made it to number two of my fiction crush list, behind only Daemon Black himself. This series was seriously one of the best I have ever read. The writing style was fantastic, the characters were so real, the plot never got boring even though it stretched on for the whole trilogy, and the romance was amazing without being overbearing.
Now on this book specifically, comedy, romance, tragedy, and suspense all in one! Anna being chosen as the one girl to save the world from demons was a bit crazy but I really liked it and how it connected to the last line of the first book. The demons were still really interesting with the changing of skins especially and the entire ending where everything went down! I love battle scenes and this one did not disappoint at all. Neph and Demons divided and it was hard to keep track of who was fighting on which side but it was epic.
In this book all of the important people were coupled except Patti. My favorite couple of course was Anna and Kaidan because I love him and I waited for so long for them to finally commit, it was a huge relief to the romantic in me. Jay and Marna were adorable but there is a tragedy in their story which I will not get into. Ginger and Blake were cute, not much time was spent on them and I still don't know how I feel about her but it isn't that important. Kope and Z were also cute, mostly because I liked Kope's character a lot.
The epilogue actually really upset me. I was not a huge fan of it and I kind of wish I hadn't read it to be honest because the ending of the book right before the epilogue would have sufficed and the epilogue left new unanswered questions. I think the problem was that it went too far in time. I loved the book regardless of how I felt about the epilogue.
I was majorly obsessed with this series and read it in about two days. I urge you all to put it at the top of your TBR lists straightaway. You can buy Sweet Reckoning here.
Sweet Peril by Wendy Higgins
Goodreads Summary: Anna Whitt, the daughter of a guardian angel and a demon, promised herself she'd never do the work of her father—polluting souls. She'd been naive to make such a vow. She'd been naive about a lot of things.
Haunted by demon whisperers, Anna does whatever she can to survive, even if it means embracing her dark side and earning an unwanted reputation as her school's party girl. Her life has never looked more bleak. And all the while there's Kaidan Rowe, son of the Duke of Lust, plaguing her heart and mind.
When an unexpected lost message from the angels surfaces, Anna finds herself traveling the globe with Kopano, son of Wrath, in an attempt to gain support of fellow Nephilim and give them hope for the first time. It soon becomes clear that whatever freedoms Anna and the rest of the Neph are hoping to win will not be gained without a fight. Until then, Anna and Kaidan must put aside the issues between them, overcome the steamiest of temptations yet, and face the ultimate question: is loving someone worth risking their life?
My Review: I will start off by saying, holy dang this book was amazing. This was a definite page turner! All of my worries about the second book not being as good as the first (always a fear of mine when reading a trilogy) disappeared instantly. I love the characters, I love the prophecy and crazy plot twists, I love the whole idea of the demon realm, and I love love love Kaidan Rowe!
Anna is an interesting character because she is somewhat desperate and she shows weakness but she doesn't do so in a way that annoys me like several female characters have in the past. The twins grew on me, even though they were not in this book very much. I definitely missed Jay because every girl needs an amazing guy best friend and I am still somewhat upset that she hardly talks to him and he still doesn't know the truth. If he is never going to find out then it is being dragged out too far. There was a time in this book where I almost wanted to switch love interests, but I could see that wasn't what the author had intended so I remained team Kai of course, even though Kope is definitely crush-worthy too. Blake is that one friend who is totally insane and lives in the moment and reading about people like that makes me feel like I could be like that-until I get back to reality. And now my favorite character Kai! He is that bad boy who falls for a good girl and she starts to change him. It is super cheesy and corny but I love it anyways because this is a fiction crush after all. His protectiveness and all of the descriptions of him make him seem sexy and he is in my top five fiction crushes for sure.
The demon take down prophecy is taking longer than I thought and I didn't think it would drag out this long but it actually didn't take away from my love of the story to be so drawn out. She only ended up getting two new allies besides her friends and spoiler alert, one doesn't make it out alive! Definitely a good twist and it made for the development of a great plot hanger which will lead to me starting my second book in one day. The whole demon thing is super interesting and their names are so unique I have no idea where they came from but I don't even bother trying to pronounce their names in my head when I read because it would definitely be a failure. Keeping track of all of the Dukes is tough but manageable because only a few are important. This story line is so unique to me because it's all about the bad guys and not the angels and I really love the idea of the story and the execution.
I would definitely recommend this book to people who like fantasy, and particularly if you have read the Lux series and are going through withdrawals because you couldn't find anything as good, which is how I found this series. Kaidan compares to Daemon Black in his persona, his bad-boy outer shell, vulnerability when it comes to one girl, and his eagerness to jump into danger which is just a dream come true! You can buy Sweet Peril here, it's worth the read.
Sweet Evil by Wendy Higgins
Goodreads Summary: What if there were teens whose lives literally depended on being bad influences? This is the reality for sons and daughters of fallen angels. Tenderhearted Southern girl Anna Whitt was born with the sixth sense to see and feel emotions of other people. She's aware of a struggle within herself, an inexplicable pull toward danger, but it isn't until she turns sixteen and meets the alluring Kaidan Rowe that she discovers her terrifying heritage and her willpower is put to the test. He's the boy your daddy warned you about. If only someone had warned Anna. Forced to face her destiny, will Anna embrace her halo or her horns? My review: So after finishing the Lux series I was desperate to find another book as good (or close to as good) as the Lux series. When I am in my slumps I go through goodreads discussions and create my TBR list on others recommendations and I happened to come across this series. Thank the Gods I did! This book was one of the best books I have read in a really long time. I fell in love from page one. Usually it takes me several chapters to become invested but with this book, it was an obsession and I love when that happens. The characters are super interesting. Anna is one of a kind and her path to discovering that is an interesting one…it lead her to Kai, who I happen to love. Kai is definitely crush-worthy and reminds me a lot of Daemon Black with the whole bad-A outer shell and the forbidden love but he is still secretly in love with her and is super protective which is my favorite quality in fiction boys. He is also the son of the Duke of Lust which makes him even sexier in Anna's eyes even though it probably should be a red flag. I love him regardless. Jay is not as interesting as I thought he was going to be, he is a good best friend but he is super oblivious and more time is focused on the Neph friends which is fine by me because I also love Kope. The whole thing with Kope is interesting because I can't tell if I am also supposed to love him, I do but it seems like the author is still leaning towards Kai, I guess I will have to find out. The plot of the whole Fallen Angels and demons trying to raise havoc and Anna not wanting a part of that, etc. is really unique I thought. A lot of the same myths are used from Dante and such but the interesting take on everything makes the book totally worthwhile. I definitely fell in love with this book and I am already going crazy waiting for the second book to come in to me so I can read it! I would for sure recommend this book if you like fantasy books. I'm not sure how popular this series is, I'm pretty sure it's picking up but you should definitely read it then tell all of your friends. You can purchase sweet evil here.
Mortal Instruments Books 4 and 5 by Cassandra Clare
Goodreads summary: The City of Fallen Angels: The Mortal War is over, and sixteen-year-old Clary Fray is back home in New York, excited about all the possibilities before her. She's training to become a Shadowhunter and to use her unique power. Her mother is getting married to the love of her life. Downworlders and Shadowhunters are at peace at last. And—most importantly of all—she can finally call Jace her boyfriend. But nothing comes without a price. Someone is murdering Shadowhunters, provoking tensions between Downworlders and Shadowhunters that could lead to a second, bloody war. Clary's best friend, Simon, can't help her—his mother just found out that he's a vampire, and now he's homeless. When Jace begins to pull away from her without explaining why, Clary is forced to delve into the heart of a mystery whose solution reveals her worst nightmare: she herself has set in motion a terrible chain of events that could lead to her losing everything she loves. Even Jace. City of Lost Souls: What price is too high to pay, even for love? When Jace and Clary meet again, Clary is horrified to discover that the demon Lilith's magic has bound her beloved Jace together with her evil brother Sebastian, and that Jace has become a servant of evil. The Clave is out to destroy Sebastian, but there is no way to harm one boy without destroying the other. As Alec, Magnus, Simon, and Isabelle wheedle and bargain with Seelies, demons, and the merciless Iron Sisters to try to save Jace, Clary plays a dangerous game of her own. The price of losing is not just her own life, but Jace's soul. She's willing to do anything for Jace, but can she still trust him? Or is he truly lost? My review: Where to begin? These books were so great I cannot even decide where to start with their plots, characters, and romance. The last few books were good but these were even better which is impressive. The plot was exciting at first because Clary was training and she had everything she wanted: the best friend anyone could ask for, a boyfriend that she would burn down the world for, and her entire family back. Shortly after though, murders begin and things start going south because she has this to deal with, then Jace suddenly starts acting totally different, Simon is going through an extremely rough time, and then Jace and Clary's brother (who we start calling Sebastian even though that isn't his name) get connected which is annoying. I almost liked Sebastian for a while and if you read it you understand, but if you haven't I won't ruin that for you. The romance between Clary and Jace was so satisfying at first because I waited for so long for them to be able to be a couple and then Jace started pulling away and I got annoyed all over again. There is hardly a happy time for anyone in these books so I enjoy them whenever they do occur. The romance between Simon and his girlfriend(s) is amusing because we care more about Simon than the other girls so I wasn't really annoyed with him, I just enjoyed his portion of the story much more than I usually did. The romance between Magnus and Alec was adorable and I loved every minute of it. Honestly, Clary and the Lightwoods needed Magnus and would have probably died several times without him. The romance between Luke and Jocelyn, well, it was weird in a good way. I love Luke and grew to like him while Clary's mom was in a coma and I am glad he is finally happy but it was kind or awkward reading about her parents' romance. The author didn't make it too important in the story though so it was good. The characters were great and I love them all, especially Jace (who is now on the top of my fiction crush list) and Izzy who is just so tough and awesome. Even though she doesn't need a guy to be strong, she shows some vulnerability to Simon and that made me like her even more. Of course I love Clary and every other good character in this story and I definitely recommend that everyone who likes reading read this book. If you want to read book four, you can do so here.   Mortal Instruments Books 2 and 3
Goodreads Summary: City of Ashes : Clary Fray just wishes that her life would go back to normal. But what's normal when you're a demon-slaying Shadowhunter, your mother is in a magically induced coma, and you can suddenly see Downworlders like werewolves, vampires, and faeries? If Clary left the world of the Shadowhunters behind, it would mean more time with her best friend, Simon, who's becoming more than a friend. But the Shadowhunting world isn't ready to let her go — especially her handsome, infuriating, newfound brother, Jace. And Clary's only chance to help her mother is to track down rogue Shadowhunter Valentine, who is probably insane, certainly evil — and also her father. To complicate matters, someone in New York City is murdering Downworlder children. Is Valentine behind the killings — and if he is, what is he trying to do? When the second of the Mortal Instruments, the Soul-Sword, is stolen, the terrifying Inquisitor arrives to investigate and zooms right in on Jace. How can Clary stop Valentine if Jace is willing to betray everything he believes in to help their father? City of Glass : To save her mother's life, Clary must travel to the City of Glass, the ancestral home of the Shadowhunters – never mind that entering the city without permission is against the Law, and breaking the Law could mean death. To make things worse, she learns that Jace does not want her there, and Simon has been thrown in prison by the Shadowhunters, who are deeply suspicious of a vampire who can withstand sunlight. As Clary uncovers more about her family's past, she finds an ally in mysterious Shadowhunter Sebastian. With Valentine mustering the full force of his power to destroy all Shadowhunters forever, their only chance to defeat him is to fight alongside their eternal enemies. But can Downworlders and Shadowhunters put aside their hatred to work together? While Jace realizes exactly how much he's willing to risk for Clary, can she harness her newfound powers to help save the Glass City – whatever the cost? My Review: After taking the much needed mental break between books one and two of this series, I dove right into the City of Ashes and of course I loved it, almost all of it. The story line is so interesting and there are just enough twists and turns throughout the plot that it keeps you wanting to read constantly. Both books two and three consumed my every thought and I loved them. The whole Valentine being Clary's and Jace's father is something I didn't see coming and I honestly loved the messed up family situation with Valentine. However with Jace and Clary, I say honestly that I hated it more than I have ever hated a big reveal in a book. Valentine being their dad kind of made their job of destroying him a tad more difficult and of course Clary is angry at her mother for marrying him and since her mom is in a coma she can't talk to her about it, but more about that later. The romance between Clary and Jace is still prevalent but super awkward and kind of gross actually. Even though they never grew up as siblings it is so disturbing and frustrating because all I wanted was for them not to be related so that I could have some real romance because I admit it, Simon isn't as crush-worthy as Jace. On to Jocelyn's coma. Clary did everything to save her, including breaking the law and ignoring Jace and all of the Lightwoods to go try to save her mother. At the same time, Clary's mom is the one with the honest answers which is just another reason that I wanted her coma to end. Luke also may or may not have feelings for her which I'm not sure how I feel about…but overall this part of the book was good, not too much time spent on it but just enough so that it added another aspect to the plot. The romance? Awkward. Disturbing. Frustrating. Downright annoying. My rant could go on forever, but I am done. The characters continued to grow on me. I love them all like they are my real friends and I still love the whole idea about the runes and Clary just happens to be extremely talented with them. These two books were utterly fantastic and I urge you to read them. You can buy both books here, if you would like to.   Mortal Instruments Book #1-City of Bones by Cassandra Clare
Goodreads Summary: "When fifteen-year-old Clary Fray heads out to the Pandemonium Club in New York City, she hardly expects to witness a murder — much less a murder committed by three teenagers covered with strange tattoos and brandishing bizarre weapons. Then the body disappears into thin air. It's hard to call the police when the murderers are invisible to everyone else and when there is nothing―not even a smear of blood―to show that a boy has died. Or was he a boy? This is Clary's first meeting with the Shadowhunters, warriors dedicated to ridding the earth of demons. It's also her first encounter with Jace, a Shadowhunter who looks a little like an angel and acts a lot like a jerk. Within twenty-four hours Clary is pulled into Jace's world with a vengeance, when her mother disappears and Clary herself is attacked by a demon. But why would demons be interested in ordinary mundanes like Clary and her mother? And how did Clary suddenly get the Sight? The Shadowhunters would like to know… Exotic and gritty, exhilarating and utterly gripping, Cassandra Clare's ferociously entertaining fantasy takes readers on a wild ride that they will never want to end." My review: This book was honestly better than I had anticipated and I truly enjoyed reading it. The beginning was not slow at all which I love about books because I usually give books 50-100 pages before I give up but this book didn't need any. Even though the main plot was not revealed right away, strange things happened that brought me into their world and even if I had known what the book was about before I started, I still would have loved it. There were 100-150 pages in the middle where Simon, Clary's best friend, gets into some trouble and Clary and Jace have to work at solving it. Personally, that part stretched out a bit too much for my liking but I still continued to read because I HAD to find out what was going to happen with all of them and I'm glad I did. The plot continually progresses and changes and that keeps the book interesting because there isn't just one problem that the reader is waiting to see how it is solved. I also really like the whole idea of the runes and it is an idea I have never heard before, I love how original it is and I enjoyed reading the descriptions of them. The romance aspect, well I will just say that Jace is definitely fiction crush-worthy. As far as fiction boys go, Jace is definitely in the top of my list. But, yes there's a but, at the end of the book after everything Jace and Clary have gone through and after the reader completely falls in love with Jace even though we don't necessarily want to, Clare destroys everything. What she does to the romance killed me inside more than anything any author has ever done, including the end of Allegiant, which is huge. The romance irritated me so much that I had to read another book before I could continue with this series. The rest of the characters in this book are so fun though. Izzy is especially my favorite minor character because she is so tough and doesn't need anyone to protect her, even though she isn't very friendly to begin with and doesn't really like Clary. Alec is kind of mysterious and kind of mean but what I did like about him was how protective he is over his family. And Simon, though not really a minor character, is definitely loveable. His personality is so geeky and I felt bad for him being thrown in this supernatural world. I almost didn't think he would be able to take it but he held on through everything just to be there for Clary. This book is definitely worth while and do not let the irritating romance stop you from reading the next book. Trust me, it gets better. I'll review the second one soon! If you want to buy The City of Bones, you can do so here.   School Spirits
Goodreads Summary: "Fifteen-year-old Izzy Brannick was trained to fight monsters. For centuries, her family has hunted magical creatures. But when Izzy's older sister vanishes without a trace while on a job, Izzy's mom decides they need to take a break. Izzy and her mom move to a new town, but they soon discover it's not as normal as it appears. A series of hauntings has been plaguing the local high school, and Izzy is determined to prove her worth and investigate. But assuming the guise of an average teenager is easier said than done. For a tough girl who's always been on her own, it's strange to suddenly make friends and maybe even have a crush." My Review: This spinoff of one of my favorite series Hex Hall was one of the best books I have ever read. The characters were so realistic, I felt like they were my friends and through all the ups and downs I could connect to everything they were feeling. The way Izzy changes from a girl who lives just to be a monster hunter to a teenage girl who goes to a real high school and makes friends makes a strangely interesting story. Her friends, as annoying and weird as they may be sometimes are super amazing and extremely entertaining. The action was not as prominent as I hoped it might be, I am an action lover, but it was still a good story. There were only a handful of confrontations that led to violence or fear, but it was well balanced with Izzy figuring out how to deal with the haunting. I wish it could have had a bit more action but I still love the story. The romance aspect was completely adorable. I usually don't read books without a bit of romance in them and this one made me fall in love with yet another fictional character. The adorable crush Izzy develops over the course of the novel is frustrating at points but I was always rooting for her. This book was amazing and I loved all of it. The book only gets better as it goes on and if you like fantasy books then this book is for you. I definitely recommend reading this book and of course, reading the Hex Hall series. You can buy School Spirits here.