The Crown (Selection #5) by Kiera Cass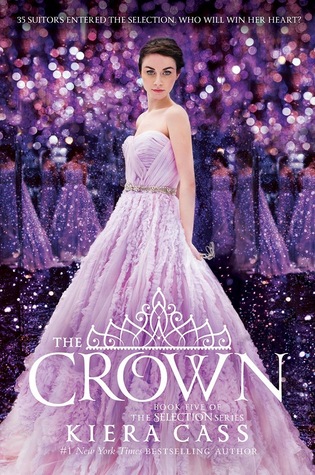 Goodreads Summary: When Eadlyn became the first princess of Illéa to hold her own Selection, she didn't think she would fall in love with any of her thirty-five suitors. She spent the first few weeks of the competition counting down the days until she could send them all home. But as events at the palace force Eadlyn even further into the spotlight, she realizes that she might not be content remaining alone.
Eadlyn still isn't sure she'll find the fairytale ending her parents did twenty years ago. But sometimes the heart has a way of surprising you…and soon Eadlyn must make a choice that feels more impossible—and more important—than she ever imagined.
My review: this book, though not as good as the previous four, was still amazing. I was stuck to the pages because I had to figure out what happened to Eady and America!
The selected were narrowed almost immediately and I wasn't surprised at all by who was left in the last few. I loved one of the guys especially and I was completely rooting for him but I was disappointed in the end. I wasn't a huge fan of how it ended and to me the ending felt kind of weird and sudden but I was happy for Eady anyway! And for the guy she ended up with! It took me a while to get used to her spoiled personality in the last one but she was a lot more fun to read about in this one. For some reason I had a ton of fun reading about one girl trying to choose from a bunch of guys! I guess I can be girly sometimes and I love some good romance.
There were a few twists including a couple of the selected and a certain person who lived in the castle that surprised me but kept me into the story! I can't say any more without spoiling it but you definitely will be kept on your toes the entire book.
Once again, I fell in love with the story, the characters, the world, and even a boy or two:) Kiera cass has done it again. Don't even hesitate to read this series if you haven't yet. I don't know why it's so entertaining because the plot is so basic, but I was absolutely addicted and read books 4 and 5 in one day…it's an amazing series and she is an amazing writer.
You can buy the last book in the selection series, the crown, here.
The Heir (Selection #4) by Kiera Cass.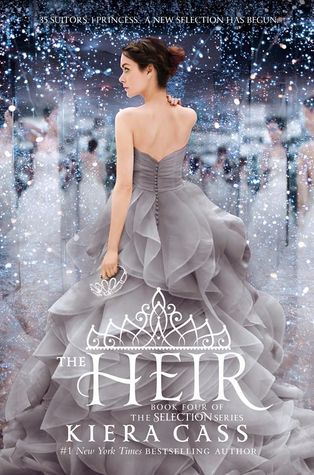 Goodreads Summary: Princess Eadlyn has grown up hearing endless stories about how her mother and father met. Twenty years ago, America Singer entered the Selection and won the heart of Prince Maxon—and they lived happily ever after. Eadlyn has always found their fairy-tale story romantic, but she has no interest in trying to repeat it. If it were up to her, she'd put off marriage for as long as possible.
But a princess's life is never entirely her own, and Eadlyn can't escape her very own Selection—no matter how fervently she protests.
Eadlyn doesn't expect her story to end in romance. But as the competition begins, one entry may just capture Eadlyn's heart, showing her all the possibilities that lie in front of her . . . and proving that finding her own happily ever after isn't as impossible as she's always thought.
My Review: I didn't think there were going to be more books in the Selection series and I was slightly hesitant to read the new ones, especially after rereading the first three and remembering how amazing they were. However, I LOVED this book. Even though it was essentially the same story, I loved being in the point of view of the girl having to meet all of those boys, and not just bring in the point of view of one of the selected. The book was so entertaining and I felt myself living through the entire process myself. I felt kind of bad for wishing I could do something like that sometime…
Eady was slightly annoying and selfish sometimes but overall I think I like her. I've never read a book in the point of view of a future Queen and I think Kiera Cass did a great job, as far as I know. I think Eady got better and easier to handle as the book went on. I also really enjoyed reading about what happened to everyone from the original selection. A lot of the people were in it and it was really fun.
The boys….oh the boys. I felt myself liking one of the 35 that I never thought I would. There is also one who doesn't even speak the same language and his translator is pretty interesting as well…There are a few others that come along and turn out to not be so bad. Less than half of them were cut though so I'm excited to read the next book and find out who wins the selection! It's confusing having feelings for so many people and I love it, it's so much fun to read about.
I definitely recommend this book, especially to people who loved the first three books in the selection. You can buy The Heir here.
The Prince and the Guard by Kiera Cass

I recently listened to this audiobook combination based off of the selection series, which I loved. I loved the prince audiobook, but the guard was a bit slow for me.
In the prince, it was all in maxon's point of view and if you all read my posts about the selection series way back when, you'll know that I am in love with Maxon. This short book was entertaining and happy and it's always fun for me to get to hear the story through the love interest's point of view. Nothing new happened because it was the same plot line (or a piece of it at least) but maxon had his own spin on things and getting to hear what he thought about America at first, well, let's say I'm even more in love with him now!
The guard, was not my favorite read. I am not a fan of aspin, I don't know why but I never was and this book was in his point of view. It was interesting but being that I am so biased toward maxon, it wasn't as fun! I always wanted him to leave and this story about him at the palace trying to get America back was frustrating for me. The read was also really slow and I felt like I had to get through it rather than wanting to finish as fast as possible because I was addicted. This may be my bias talking…
I would definitely recommend the prince, and if you are a fan of the selection series and aspin, then the guard as well. You can find both on Amazon here.
In the Woods (Dublin Murder Squad #1) by Tana French
Goodreads Summary: Dublin 1984 dusk, three children vanish in the woods. One, Rob Ryan, grips a tree trunk in terror, unable to recall any detail of previous hours. Twenty years later, the detective on the Dublin Murder Squad keeps his past a secret. But when a girl 12 is killed in the same woods, Rob and Detective Cassie Maddox — partner and best pal – investigate present and past. 
My Review: I read this book for a book club I joined and I hadn't heard of it previously. I have read several murder mysteries in the past and this lived up to the expectations I had. It was an amazing book, well written, pretty fast paced for a detective story, and the characters were great.
The thing I didn't expect about this book was that the main case the book focuses on didn't feel like the most important part of the book, Rob's childhood did and that was an interesting way for the author to go. The case Cass and Rob were working on was extremely entertaining though and I found myself trying to solve the case before they did, and I cannot even remember everyone I suspected at one time or another.
I loved the main character Rob for more than half of the book. He was judgmental, but not rude, and the way he thought about everything was really fun to read about and I generally liked him. His friendship with Cassie was adorable and I loved reading about how well they worked together and got along, but the further I got to the end, the less I liked him and I can't say why or it will spoil a subplot; I still like Cassie though because she didn't change at all. The other minor characters are not that important and I never developed any kind of attachment to them.
The ending was beyond frustrating. Apparently French enjoys leaving cliffhangers, which would be fine if the next book in the series was about the same plot but it isn't and I am extremely angry still. There were so many subplots I can't say which one wasn't ended or which I am not pleased with but I will say that I am bitter. To be honest, it bothered me so much that I'm considering not reading the next one. The book was amazing though so I will probably end up reading it at some point.
You can buy in the woods here.
Among Others by Jo Walton
Goodreads Summary: Startling, unusual, and yet irresistably readable, Among Others is at once the compelling story of a young woman struggling to escape a troubled childhood, a brilliant diary of first encounters with the great novels of modern fantasy and SF, and a spellbinding tale of escape from ancient enchantment
Raised by a half-mad mother who dabbled in magic, Morwenna Phelps found refuge in two worlds. As a child growing up in Wales, she played among the spirits who made their homes in industrial ruins. But her mind found freedom and promise in the science fiction novels that were her closest companions. Then her mother tried to bend the spirits to dark ends, and Mori was forced to confront her in a magical battle that left her crippled–and her twin sister dead.
Fleeing to her father whom she barely knew, Mori was sent to boarding school in England–a place all but devoid of true magic. There, outcast and alone, she tempted fate by doing magic herself, in an attempt to find a circle of like-minded friends. But her magic also drew the attention of her mother, bringing about a reckoning that could no longer be put off…
My review: This book got pretty good reviews on goodreads so I was really surprised at how much I disliked it. A SF/fantasy standalone novel sounds like the greatest thing ever to me because I have been trying to find a great standalone and these genres are right up my alley and I was upset to find that I didn't like this book.
I read it for a book club so I felt like I had to read the whole thing so that I could discuss the ending and if it got any better but it never did. There was no plot line, therefore no plot movement, we are kind of thrown right in to her life without knowing what happened the year prior and it was kind of annoying because we were supposed to feel bad for her. Her being Mori, the main character. What was also upsetting was that I did not like Mori. She was stuck-up, it seemed like she felt better than everyone else most of the time especially when it came to books, she went to a new school and didn't want anyone to make fun of her so she was mean to them immediately so they would fear her and not mock her which made her a jerk in my opinion. The romance had potential but it was mainly a 15 year old girl wanting to have sex and not actually being sure if she liked anyone which was also annoying.
The only part I did like about this book was the book club scenes because I have felt what Mori was feeling. She loved talking about books with fellow book lovers and I definitely relate to that. It was sad though because I had no idea what most of the books were that she talked about and I have read a lot of books. I would have liked it more (probably) if I knew what the books were that she constantly summarized and analyzed. Also, the only scifi in this book was when she talked about the scifi that she was reading and the only fantasy in this book was like one spell she did and the fact that fairies existed. It was depressing.
Would not recommend this book to anyone. If you have read it, what did you think? Am I the only one who didn't like it? You can buy Among Others here.
The One by Kiera Cass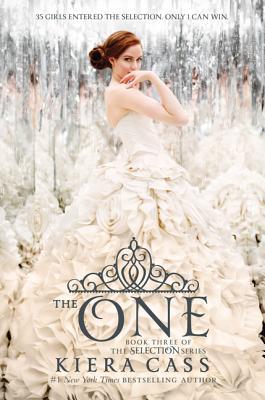 Goodreads Summary: The time has come for one winner to be crowned.
When she was chosen to compete in the Selection, America never dreamed she would find herself anywhere close to the crown—or to Prince Maxon's heart. But as the end of the competition approaches, and the threats outside the palace walls grow more vicious, America realizes just how much she stands to lose—and how hard she'll have to fight for the future she wants.
My Review: The conclusion to this series was beautiful and I loved it.
This book was definitely more political than the previous ones and I think I liked it most of the time. Usually I don't play much attention to the politics in books but Cass did a great job with making it entertaining and making me actually like it. It reminded me a lot of Mockingjay with the whole politics situation and revolution of the lower castes. It took up a lot of the book understandably because it was down to only a few girls and they were fighting to rule a country.
Now onto the girls. The whole situation kept me entertained for all three books surprisingly. I love how all of the girls were in love with the same guy and were fighting for him but I wasn't a huge fan of his in this book because of how irritated and jealous I was the whole time. I do not like being jealous in books but the fact that the author could make me feel real emotions for fake characters is amazing. There was one girl in particular that I did not like AT ALL and by the end of the book I wanted to be her best friend and I can't say who or it would ruin the surprise but I found it hilarious that the author decided to change this character so much.
America was my favorite character throughout the entire series even when she got annoying during the jealous periods. Her inner monologues could get to be too much but they didn't last long when Maxon came into the picture. Oh, Maxon. I am so in love with him it hurts! Again, he made me sign and giggle and everything stupid and girly. Totally a swoon-worthy guy, especially for a prince.
The ending was fantastic and I was so depressed when I finished the series I didn't know what to do with my life. I definitely recommend this book to anyone who reads and likes romance and a good friendly competition to be a Princess. I didn't think it sounded good either, but trust me on this. It is now one of my favorite series.
You can buy the conclusion to the selection trilogy here.
The Elite (The Selection #2) by Kiera Cass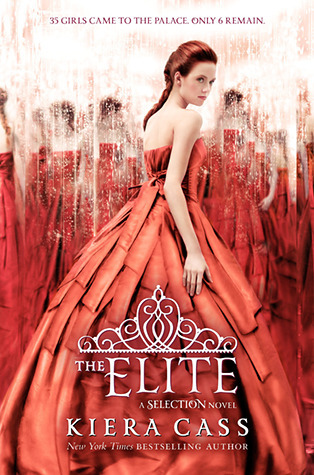 Goodreads Summary: The Selection began with thirty-five girls.
Now with the group narrowed down to the six Elite, the competition to win Prince Maxon's heart is fiercer than ever—and America is still struggling to decide where her heart truly lies. Is it with Maxon, who could make her life a fairy tale? Or with her first love, Aspen?
America is desperate for more time. But the rest of the Elite know exactly what they want—and America's chance to choose is about to slip away.  
My Review: I cannot believe that I loved this book even more than the first one because I was in love with the first, but I was obsessed with this book. It started right where it left off with six girls left and I still wasn't quite sure who I was supposed to love more, even though I knew I still loved Prince Maxon more.
Living through a relationship struggle and trying to become the next princess was so entertaining and I loved every second. I found myself squealing and giggling like an idiot again, this is one talented author. I am so in love with Maxon regardless of the countless number of times I got mad at him in this book. Jealously is also one of my least favorite feelings in books, especially when I am the one feeling it because I am living vicariously through the main character. I was jealous more times than I can recall and I did not like that at all but it did make for an interesting story because it wasn't just boy meets girl, they fall in love, the end. However, I love him. If it were real life I would want to marry him. I would sound insane to anyone who does not know exactly what I am feeling.
There was also one scene in particular that I can't describe without giving anything away that I could barely stand to read. It was so awful and horrid and barbaric, I can only hope that the last book has a happy ending for those involved. The maids were super adorable and I loved reading about them and their small drama and gossip. The King was insufferable and the Queen was a darling and their odd contrast was interesting to read about. This book also had some action with rebel attacks on the palace and had a few fight scenes which are always intriguing in my mind. I didn't think those would really fit in but they definitely kept me addicted to the story even more because I love fighting in books.
This book ended and I immediately bought the next one because I could not stop. I cannot wait to read it because I am obsessed and I really hope I have inspired someone to read these books because they are outstanding.
You can buy the Elite here.
The Selection (The Selection #1) by Kiera Cass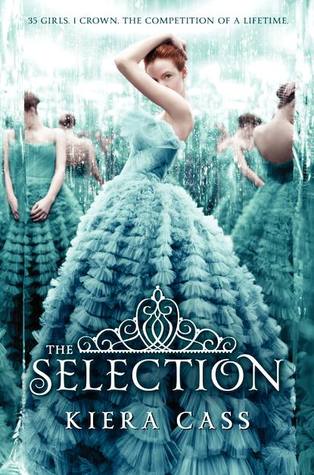 Goodreads Summary: For thirty-five girls, the Selection is the chance of a lifetime. The opportunity to escape the life laid out for them since birth. To be swept up in a world of glittering gowns and priceless jewels. To live in a palace and compete for the heart of gorgeous Prince Maxon.
But for America Singer, being Selected is a nightmare. It means turning her back on her secret love with Aspen, who is a caste below her. Leaving her home to enter a fierce competition for a crown she doesn't want. Living in a palace that is constantly threatened by violent rebel attacks.
Then America meets Prince Maxon. Gradually, she starts to question all the plans she's made for herself–and realizes that the life she's always dreamed of may not compare to a future she never imagined.
My Review: I have to start out by saying how much I love the covers of every book in this series. They are gorgeous and they made me even more excited to read them.
The book started out with America's secret relationship with her boyfriend Aspen and everything was about the two of them and their struggles to be together. That was the way that the whole alternate universe was introduced. Basically the United States has a caste system, ones being the monarchs and eights being the homeless. America was a five and Aspen was a six and women typically didn't marry down. I loved this romantic plot even though it didn't last that long. I have no idea why I liked it because I typically don't like romantic plots but the whole forbidden love got to me. The struggle for food and money reminded me of the hunger games and to be quite honest, I thought this book was going to be similar to that one. With a name like "the selection" I thought it was going to be one person alive at the end and I could not have been more wrong.
This book was very similar to Princess Academy in concept besides the fact that the girls could sign up to try to win the prince's heart. If I knew that at the beginning I can't say I would have read it, but I am so in love with this book I don't even know where to begin. As soon as the top 35 girls were chosen and America truly entered the contest I was addicted. I seriously did not even put the book down to eat; it was just that fantastic.
35 girls fighting for the prince and the chance to become a one does not sound very entertaining and I cannot describe in words why I loved the story so much. I wasn't sure how to feel about Prince Maxon at first because America thought he would be so snobby and act like he was above everyone else, but the more I got to read about him, the harder I fell. I wasn't sure how I was supposed to feel because America was so conflicted the whole time because she still loved Aspen, but I moved on from that pretty fast so I was thinking I was supposed to love Maxon. Reading about the unfolding of the competition and girls getting sent home and seeing Maxon's and America's love grow just pulled me into that world and made me forget about the real world which is my favorite thing in a book. I found myself literally squealing at times which rarely happens but this book brought out the inner girl in me.
I cannot adequately describe to you all how much I loved this book but I recommend it to every girl out there because you may find yourself squealing as I did. Read it and let me know what you think! By the way, for those of you who have read it, I am totally team Maxon.
You can buy the Selection here.
The Beekeeper's Apprentice by Laurie R. King
Goodreads Summary: Long retired, Sherlock Holmes quietly pursues his study of honeybee behavior on the Sussex Downs. He never imagines he would encounter anyone whose intellect matched his own, much less an audacious teenage girl with a penchant for detection. Miss Mary Russell becomes Holmes' pupil and quickly hones her talent for deduction, disguises and danger. But when an elusive villain enters the picture, their partnership is put to a real test.
My Review: I read this book for a class and it could not have come at a more perfect time because it's a spinoff of Sherlock Holmes and I have recently become obsessed with Sherlock Holmes, especially the show Sherlock by BBC. This post may be full of Sherlock GIFs because 1-I love Sherlock and it just makes sense in this review and 2-because I finally learned how to use GIFs!
I honestly wasn't sure what to expect with this book because there are so many books/shows/movies that have taken the original Sherlock Holmes and made modern stories but this book was actually pretty good. It started off a bit slow for me but eventually picked up. The way this book was structured was intro (characters developed, initial plot developed, etc.) which lasted a bit too long for my taste because nothing happened for awhile. Then one plot started which was basically the first mystery and it was about stolen ham and possible treason which is not exciting in my opinion. I have read a few mystery books including an original Holmes book by Doyle and I enjoy reading murder mysteries, not theft. This plot made me hesitant to read the rest of the book because I was afraid it was going to turn into a Nancy Drew type novel but the book picked up soon after the first plot. New mysteries were introduced, including a murder and the book was much faster from there on out.
The main character, Mary Russell was fun to read about. I haven't read too many stories with a girl who is this smart and a detective so it was something new for me and I liked that. Sherlock Holmes, always a joy to read about, was not my favorite character in this book. King was going for a feminist approach with this book which is fine, I try not to pay attention to that, but it was so obvious that it took away from Sherlock! In order to make Mary Russell, the main girl seem smarter, she made Sherlock miss clues and to make girls seem needed or powerful–I don't know–she made Sherlock love. I cannot explain how wrong this is. If you have never read or seen anything Sherlock related, you should broaden your horizons, but really, Sherlock is a sociopath who does not care for anyone except John Watson arguably, and the fact that he has so much feeling for Mary Russell is disappointing because I love his lack of depth when it comes to people. I don't really think Sherlock was a necessary part of this story and it may have been better without him.
This book isn't normally something I would have chosen for myself because there is no magic or romance or any qualities that I normally look for when I choose a new book to read but I enjoyed it after the pace picked itself up. If you like Sherlock and feel like you need a new mystery then I would recommend this for you. If you are like me and love fantasy or anything like that, you may get bored of this book pretty quickly. Even though I liked it, I will probably not read the next 11 books in the series, yes, 11.
You can buy The Beekeeper's Apprentice here.
Freaky Friday 9/19/14
So this is just a random post that I'll be doing from time to time because I thought it would be fun! I'm going to think of different books where two or more characters switched places, metaphorically or physically!
This week I'm going to start off with a slightly obvious one because I know it's only going to get harder from here on out!
Harry potter and the Chamber of Secrets! Most people know this story, and if you don't then I strongly suggest you get on it! Anyways, in this story polyjuice potion is introduced and harry and ron turned into crabbe and goyle and Hermione accidentally gets turned into a cat! The whole scene was extremely entertaining and I am obsessed with all things Harry Potter! I can't decide which book is my favorite but this one is one of my favorites.
"Ooh, you look much tastier than Crabbe and Goyle, Harry" said Hermione, before catching sight of Ron's raised eyebrows, blushing slightly and saying "oh you know what I mean – Goyle's Potion looked like bogies."   ~J.K. Rowling
That was probably one of the shortest posts I've done, but I've been wanting to do this for a while:)  New book reviews coming soon!
Jane Eyre by Charlotte Bronte
Goodreads Summary: Orphaned into the household of her Aunt Reed at Gateshead, subject to the cruel regime at Lowood charity school, Jane Eyre nonetheless emerges unbroken in spirit and integrity. She takes up the post of governess at Thornfield, falls in love with Mr. Rochester, and discovers the impediment to their lawful marriage in a story that transcends melodrama to portray a woman's passionate search for a wider and richer life than Victorian society traditionally allowed.
With a heroine full of yearning, the dangerous secrets she encounters, and the choices she finally makes, Charlotte Bronte's innovative and enduring romantic novel continues to engage and provoke readers.
My review: I have never had such a mixed opinion about a book after reading it. This is a new feeling for me and I almost think I would rather either really love a book or really dislike it because now I don't have a concrete feeling for the book overall. I do have opinions on certain parts of the book though, since it was kind of split into times of the life of Jane Eyre.
The beginning was Jane Eyre's life as a 10 year old girl and her living with her horribly mean family, kind of like a fairy tale. She then goes off to a boarding school and there is no plot line whatsoever for this entire part! The first 40-45 percent of the book is based on this and I basically just gave away everything that happens. It was a cute story but it went by so slowly that I found myself wanting to quit reading. This book is one of my mom's favorites though and I read great reviews on this book and the love story (which was pretty much nonexistent for the first 60%) so I decided to push through it.
Do not judge the book based solely on the first half because the second half was really good. The book would have been better overall if the first half moved faster and had a plot line, or was condensed. As soon as she grew up, it felt like the actual story began. There is a love story, I cannot say too much on that or I will ruin it, but it was really adorable and I am in love with this man. Things did not move quickly with the romance like they do in more modern works so I had to keep reminding myself of how old this book is and it made it better. The story developed, a plot was created, there were actually some plot twists that didn't involve romance, attachments were made on the main characters and I really enjoyed the second half. The ending was beautiful and lovely and I found myself swooning and smiling to myself like an idiot, but I didn't care because book romance is amazing.
My opinion on this book is iffy. For me, the second half was good enough that I can kind of forget how boring the first half was, but the problem is getting through the first half. This is not a quick read, but I do recommend it if anyone is in the mood for a good romance or just some good old classic novel reading.
Here are two of my quotes from the book, just for fun:
"[I] never thought of hating because I despised him so absolutely"
"Gathering me to his breast, pressing his lips on my lips: 'so, Jane!'"
You can get Jane Eyre free on Kindle.
The Giver by Lois Lowry
Goodreads Summary: Jonas' world is perfect. Everything is under control. There is no war or fear or pain. There are no choices. Every person is assigned a role in the Community. When Jonas turns twelve, he is singled out to receive special training from The Giver. The Giver alone holds the memories of the true pain and pleasure of life. Now, it is time for Jonas to receive the truth. There is no turning back.
My Review: This book has been on my TBR list for a while. I got it after I finished the summer reading program a year ago and sadly, it sat on my shelf until the movie commercial came out.
The book was definitely interesting, the concept of no feelings was original, I enjoyed the weird apologies for everything, the sharing of dreams in the morning, and the whole getting your future chosen for you at age 12. As interesting as the ideas were though, there was no plot line until the last 40 pages! The entire first 120 pages was just explaining the world that they lived in and introducing characters. Nothing actually happened until too far into the book! There was so much buildup in the very beginning that I was waiting for some crazy plot but it continued to build and build and then the plot was come and gone. The book  was not as entertaining as I expected, and it was overall super slow for me.
The whole releasing old people and babies was interesting and it took a twist that I eventually saw coming. I liked the memories and how the giver and the receiver shared them, it was really unique and I had no idea that was how the book was going to go because it took so long to get there. As soon as the plot began, I couldn't put the book down but I almost gave up on the book because of how slow it was.
I know I blog about books but I have to rant about the movie compared to the book as well. The movie was similar to the book but it created a plot line and romance which made the movie go way faster than the story in the book went. I honestly think the book would have been better if it was more like the movie, which is saying a lot for me because I typically like the books way better. The movie angered me at first because it was different, but I thought about how slow the book was and figured people who hadn't read the book wouldn't have liked the movie if they didn't add some plot movement and quicker development and romance, of course.
The book was not as good as I had anticipated, but it was short so I got through it quickly even though it was slow moving. I liked the ideas of the book, it was creative, and overall a good story if you don't think about how long it took to get to the plot. You can buy the Giver here.
The Perks of Being a Wallflower by Stephen Chbosky
Goodreads Summary: Charlie is a freshman.
And while he's not the biggest geek in the school, he is by no means popular. Shy, introspective, intelligent beyond his years yet socially awkward, he is a wallflower, caught between trying to live his life and trying to run from it.
Charlie is attempting to navigate his way through uncharted territory: the world of first dates and mix tapes, family dramas and new friends; the world of sex, drugs, and The Rocky Horror Picture Show, when all one requires is that perfect song on that perfect drive to feel infinite. But he can't stay on the sideline forever. Standing on the fringes of life offers a unique perspective. But there comes a time to see what it looks like from the dance floor.
My Review: I have been trying to read books that have been made into movies lately and I have heard good things about this book so I decided to give it a go. Honestly, I didn't like it very much. It was good enough so that I finished the whole book because I was curious to see what would happen with the psycho main character, but I would not read it again. I liked the teacher character and I have read most of the books he gave to Charlie so that was my favorite part of the book. I didn't like the drugs and alcohol and sex! It was too much and it kind of annoyed me to read so much about it. I also didn't like that the main character cried all of the time and could not keep his emotions in check. I get that there was supposed to be something wrong with him and he was a nice kid and I liked all of his philosophical thoughts but his head was too weird for me to enjoy being in.
The diary format was interesting though I didn't pay too much attention to it. The fact that the main character had friends and was writing to someone anonymous was baffling to me, I just didn't get it. I didn't get this story overall actually. It didn't make sense to me, there was no plot line, and it wasn't a really good experience for me, though I am glad I read it.
You can buy perks of being a wallflower here.
The Fault in Our Stars by John Green
Goodreads Summary: Despite the tumor-shrinking medical miracle that has bought her a few years, Hazel has never been anything but terminal, her final chapter inscribed upon diagnosis. But when a gorgeous plot twist named Augustus Waters suddenly appears at Cancer Kid Support Group, Hazel's story is about to be completely rewritten. 
My Review: I have to say I was completely against reading this book! It is not my type of book because there is no magic or demons or supernatural battle, but I got the book as a gift and I cannot let a book go unread in my possession. So I read it. I have mixed feelings about it. People really oversold this book to me and said it was the best book they've read, several people I know read it multiple times and I didn't love it that much. It is a really good book overall though.
I love the author's writing style. His dialogue is written really uniquely and I really enjoyed paying attention to that and his book within a book was filled with deep philosophical quotes. My favorite was one that contrasted the title, "The fault is not in our stars, it is in ourselves" which sums up life in a positive way I think, depending on how you look at it. I also liked the existential feel of the book overall, mostly in the author Houten which turns out to be a let down, but I think is a symbol for the life the characters live. The romance was cute, but I never developed a fiction crush on Augustus, I liked him well enough as a character though.
I was upset that I figured out the plot at page 50. I thought about what I would do if I was writing the book and I knew exactly what was going to happen and was dead on. That kind of ruined the book for me, but I love the authors writing style so much and the book was cute so I read it. I did not like how it ended. Even though I saw it coming, I did not want it to happen. Some people say it has a happy ending but I really didn't see it that way.
I now feel the need to compare it to the movie. This was one of the best conversions of books to movies I have ever seen. It was an amazing movie compared to the book, the personas of the characters were perfect, the quotes were exact and the story was just brought to life and I can't imagine it being done better.
I liked the book. I probably won't read another book like it unless forced into it because it just isn't really my type of book but I think if you are against reading it like I was you should give it a go. You can buy the Fault in Our Stars here.