The Heir (Selection #4) by Kiera Cass.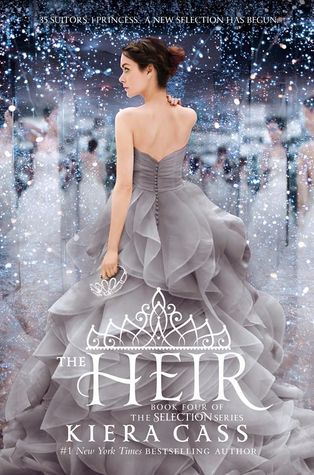 Goodreads Summary: Princess Eadlyn has grown up hearing endless stories about how her mother and father met. Twenty years ago, America Singer entered the Selection and won the heart of Prince Maxon—and they lived happily ever after. Eadlyn has always found their fairy-tale story romantic, but she has no interest in trying to repeat it. If it were up to her, she'd put off marriage for as long as possible.
But a princess's life is never entirely her own, and Eadlyn can't escape her very own Selection—no matter how fervently she protests.
Eadlyn doesn't expect her story to end in romance. But as the competition begins, one entry may just capture Eadlyn's heart, showing her all the possibilities that lie in front of her . . . and proving that finding her own happily ever after isn't as impossible as she's always thought.
My Review: I didn't think there were going to be more books in the Selection series and I was slightly hesitant to read the new ones, especially after rereading the first three and remembering how amazing they were. However, I LOVED this book. Even though it was essentially the same story, I loved being in the point of view of the girl having to meet all of those boys, and not just bring in the point of view of one of the selected. The book was so entertaining and I felt myself living through the entire process myself. I felt kind of bad for wishing I could do something like that sometime…
Eady was slightly annoying and selfish sometimes but overall I think I like her. I've never read a book in the point of view of a future Queen and I think Kiera Cass did a great job, as far as I know. I think Eady got better and easier to handle as the book went on. I also really enjoyed reading about what happened to everyone from the original selection. A lot of the people were in it and it was really fun.
The boys….oh the boys. I felt myself liking one of the 35 that I never thought I would. There is also one who doesn't even speak the same language and his translator is pretty interesting as well…There are a few others that come along and turn out to not be so bad. Less than half of them were cut though so I'm excited to read the next book and find out who wins the selection! It's confusing having feelings for so many people and I love it, it's so much fun to read about.
I definitely recommend this book, especially to people who loved the first three books in the selection. You can buy The Heir here.