The Crown (Selection #5) by Kiera Cass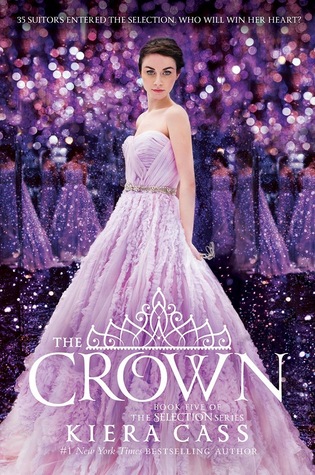 Goodreads Summary: When Eadlyn became the first princess of Illéa to hold her own Selection, she didn't think she would fall in love with any of her thirty-five suitors. She spent the first few weeks of the competition counting down the days until she could send them all home. But as events at the palace force Eadlyn even further into the spotlight, she realizes that she might not be content remaining alone.
Eadlyn still isn't sure she'll find the fairytale ending her parents did twenty years ago. But sometimes the heart has a way of surprising you…and soon Eadlyn must make a choice that feels more impossible—and more important—than she ever imagined.
My review: this book, though not as good as the previous four, was still amazing. I was stuck to the pages because I had to figure out what happened to Eady and America!
The selected were narrowed almost immediately and I wasn't surprised at all by who was left in the last few. I loved one of the guys especially and I was completely rooting for him but I was disappointed in the end. I wasn't a huge fan of how it ended and to me the ending felt kind of weird and sudden but I was happy for Eady anyway! And for the guy she ended up with! It took me a while to get used to her spoiled personality in the last one but she was a lot more fun to read about in this one. For some reason I had a ton of fun reading about one girl trying to choose from a bunch of guys! I guess I can be girly sometimes and I love some good romance.
There were a few twists including a couple of the selected and a certain person who lived in the castle that surprised me but kept me into the story! I can't say any more without spoiling it but you definitely will be kept on your toes the entire book.
Once again, I fell in love with the story, the characters, the world, and even a boy or two:) Kiera cass has done it again. Don't even hesitate to read this series if you haven't yet. I don't know why it's so entertaining because the plot is so basic, but I was absolutely addicted and read books 4 and 5 in one day…it's an amazing series and she is an amazing writer.
You can buy the last book in the selection series, the crown, here.