Apollyon (Covenant #4) by Jennifer Armentrout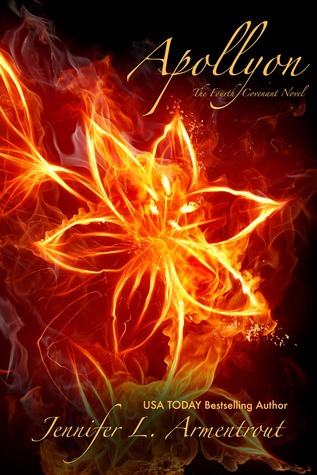 Goodreads Summary: Fate isn't something to mess with… and now, neither is Alex.
Alex has always feared two things: losing herself in the Awakening and being placed on the Elixir. But love has always been stronger than Fate, and Aiden St. Delphi is willing to make war on the gods—and Alex herself—to bring her back.
The gods have killed thousands and could destroy entire cities in their quest to stop Seth from taking Alex's power and becoming the all-powerful God Killer. But breaking Alex's connection to Seth isn't the only problem. There are a few pesky little loopholes in the whole "an Apollyon can't be killed" theory, and the only person who might know how to stop the destruction has been dead for centuries.
Finding their way past the barriers that guard the Underworld, searching for one soul among countless millions, and then somehow returning will be hard enough. Alex might be able to keep Seth from becoming the God Killer… or she might become the God Killer herself.
My Review: This book was even more amazing than the past books in the series which is saying something…I am really glad I read Elixir (the novella) before I read this one because so much happened in that book and it made me love Aiden even more so I read this book differently.
JLA always perfectly times each part of her plot to where you almost get beyond frustrated with how things are going but then she picks things up and makes the plot even crazier. The beginning of this book was really frustrating because of the whole connection between the Apollyons and I was so glad when JLA added something more to the plot, like a war between the Gods. Yeah, and things only got crazier from then on. An unknown God was working against Apollo and Alex, and Alex has to go on several adventures trying to figure out how to stop them. It was fantastic and addicting. The mythology mixed with all of the crazy action was also perfect and helped intensify the plot.
I also loved all of JLA's phrases like "crap on a cracker" which is just so her. There were also so many references that I loved like a Charmed reference (the old TV show and one of my favorites), a Harry Potter reference which she tends to use in her books, and so many Supernatural references that make me want to watch that show. Now I must. Her references and phrases amuse me to no end.
The romance, oh the romance, was so intense in this book it brought out my inner fangirl times 10. I don't know why part of me still loves Seth but I do and so I really hope he doesn't die…I am now officially in love with Aiden and the novella Elixir really helped bring me to that point. This book only made my love grow because of his sexy I-can-defeat-anything-wariorness and because of how deep his love for Alex goes. I love this relationship and I am living through it like the book slut I am.
The ending of this book was insane and there wasn't a huge cliffhanger, just a bunch of things that were left open-ended so I must read the next book as soon as humanly possible before I go crazy. You can buy Apollyon here.