The Queen of Zombie Hearts by Gena Showalter (White Rabbit Chronicles #3)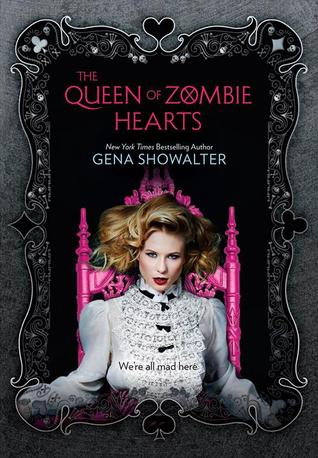 Goodreads Summary: I have a plan.
We'll either destroy them for good, or they'll destroy us.
Either way, only one of us is walking away.
In the stunning conclusion to the wildly popular White Rabbit Chronicles, Alice "Ali" Bell thinks the worst is behind her. She's ready to take the next step with boyfriend Cole Holland, the leader of the zombie slayers…until Anima Industries, the agency controlling the zombies, launches a sneak attack, killing four of her friends. It's then she realizes that humans can be more dangerous than monsters…and the worst has only begun.
As the surviving slayers prepare for war, Ali discovers she, too, can control the zombies…and she isn't the girl she thought she was. She's connected to the woman responsible for killing—and turning—Cole's mother. How can their relationship endure? As secrets come to light, and more slayers are taken or killed, Ali will fight harder than ever to bring down Anima—even sacrificing her own life for those she loves.
My Review: I cannot believe this series is over already! This book did not disappoint me in any way.
The entire book was fast-paced and action packed. There was not a single lull or time when I wanted something to happen. There were so many fights and attacks and it was fantastic. There weren't as many zombies in this book as the last which actually didn't bother me too much because it didn't affect the amount of action.
The plot picked up from where the last book left off and went places that I never thought the author would go. In particular there was a plot twist 10% before the end of the book and I was so thrown off by that because I didn't think a huge plot could be resolved in such a short amount of time but the author surprised me in a really good way. The visions were also really frustrating in this book and the whole seeing ghosts or "witnesses" as they are called in this book was weird but I still wouldn't change it if I had the opportunity because it made for such an interesting story.
The romance in this book was as great as in the last ones. I am ridiculously in love with Cole and I probably always will be to be quite honest. The only thing that bothered me about Ali and Cole was how much she pressured him to have sex with her. It was kind of annoying at times but I still love them. The other couples in this book are equally as adorable, though the guys were not as swoon-worthy as Cole. My favorite character is Kat and I find myself now saying some of her sayings like "that is so cake" in real life because for a time, she felt like my real friend.
This series made it into my favorites list and I am in a deep depression now that it is over. I am so glad I read this series and I hope I inspired someone else to read it and I hope they love it as much as I did. You can buy The Queen of Zombie Hearts here.